In this article I will provide a bit of history and my excitement concerning the development of our high-RNA Rejuvenate! superfood. Over the past 25 years I have formulated hundreds of nutritional supplement products. As you may know, I first entered into the business of formulating and selling nutritional products because of my wife Joanne's extreme multiple chemical sensitivities. The challenge to me always was to design products that even the most sensitive person could tolerate, and to create products that would provide significant benefit to individuals taking them.
I spent a great deal of my time reading scientific and clinical studies that showed the most effective forms and amounts of the ingredients. In addition, I read books on physiology, endocrinology, immunology, and biochemistry in order to understand how certain nutrients would be used in and affect the body. On occasions when I saw new possibilities for products with great potential I would take extra time with my research in order to ensure that I produced a groundbreaking product. This is the case with Rejuvenate!™.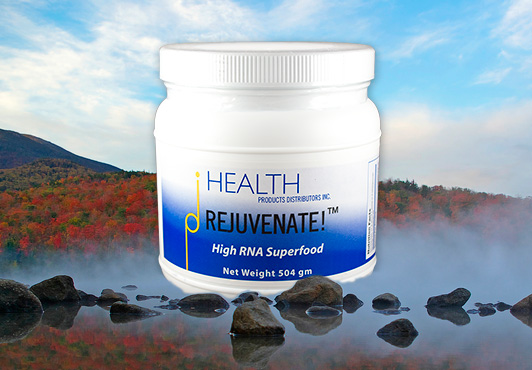 DISCOVERING DIETARY NUCLEIC ACIDS
In 2004, I first learned about the benefits of ribonucleic acids (RNA) as nutritional supplements. Initially, I discovered the idea of consuming dietary nucleic acids from several books by Dr. Bernard Jensen that my son, Fred, was reading at the time. These books included Food Healing for Man (1983) and Chlorella: Jewel of the Far East (1992).
Dr. Jensen told the story of a man named Charlie Smith. According to Dr. Jensen, this man had received a honorary high school degree at the age of 133. When Dr. Jensen visited Charlie Smith, the oldest living American at the age of 135, he was healthy, clear-minded, and had a wonderful memory.
Dr. Jensen's first question for Charlie was, "What have you been eating for the last 30 years?" Charlie's reply was that he ate canned sardines and crackers. Dr. Jensen couldn't believe it. But after some investigation, he found out that canned sardines were the highest-known food in RNA.
We soon discovered references in Dr. Jensen's books to the works of Dr. Benjamin S. Frank. Among Dr. Frank's writings is Dr. Frank's No-Aging Diet (1976). As presented in his bestselling book, the main components of Dr. Frank's diet are: 1) one three-to-four ounce can of sardines at least four days per week, and some fish including salmon and other seafood on the other days, 2) calf liver once per week, and 3) beans or lentils once or twice weekly.
Dr. Frank had done extensive research on both humans and animals using his diet. In his books, he recommends a diet high in nucleic acids to counter the aging process and essentially to rejuvenate the body. We were astonished at the health benefits (see list below) reported by Dr. Frank. Benefits he found not only include improved tissue oxygenation and cellular energy production, but also smoother skin and a more youthful appearance. It was an exciting time for us. We could hardly wait to try Dr. Frank's "no-aging" diet for ourselves!
BENEFITS OF DIETARY NUCLEIC ACIDS (RNA, DNA)
HIGHER ENERGY (ATP) PRODUCTION IN THE BODY

GREATER MUSCLE MASS / STRENGTH / ENDURANCE

SMOOTHER SKIN / MORE YOUTHFUL APPEARANCE

EASIER BREATHING / "ANTI-ANOXIA" EFFECT

ELEVATES TISSUE OXYGENATION

BENEFICIAL CARDIOVASCULAR EFFECTS

LOWER CHOLESTEROL LEVELS

OVERALL PHYSICAL REJUVENATION

TEMPERATURE TOLERANCE (COLD/HEAT)

IMPROVES LONGEVITY / QUALITY OF LIFE

FAR GREATER SUBJECTIVE WELL-BEING
FOLLOWING DR. FRANK'S "NO-AGING" DIET
After learning about the many health benefits of dietary nucleic acids, my family immediately began consuming sardines on a daily basis. We felt and saw the difference! We noticed we had greater energy levels, breathed easier (especially noticeable when exercising), greater tolerance to cold temperatures, and even smoother skin. Even our dogs gained these benefits!
I was somewhat surprised at these noticeable effects on health since for many years we had already been consuming a healthy diet of organic foods, taking high-quality nutritional supplements, and getting plenty of exercise.
In another book written by Dr. Frank, Nucleic Acid Nutrition and Therapy (1977), he notably states that nucleic acids [RNA and DNA] are "essential nutrients of human beings," as distinct from non-essential, accessory nutrients. He considered nucleic acids and nucleotides an essential dietary category, i.e., as being nutrients just as essential for humans as vitamins, minerals, proteins, carbohydrates, and lipids.
Dr. Frank acknowledged the body's capacity to synthesize some nucleic acids, yet cited the marked improvements in degenerative conditions as the clearest evidence for nucleic acids as essential nutrients. In particular, he noted the health effects resulting from even relatively small intakes of nucleic acids (e.g., energizing effects, anti-anoxia effects, rejuvenation, greater vitality, etc). Dr. Frank found he could not obtain such improvements in his subjects by increasing only the intake of vitamins, minerals, proteins, or other essential nutrients.
Dr. Frank asserts: "Nucleic acids are an essential nutrient in our daily diets, and…optimal health and reduced aging are clearly related to their intake, more than to any other nutrient. Nucleic acids in our diets are of paramount importance for the repairing of molecular and gross tissue degeneration, and for combatting the process of aging by simple, effective and essentially non-toxic, natural means."
DEVELOPING REJUVENATE!™ SUPERFOOD
I was absolutely impressed by the results we were observing, and by what Dr. Frank had discovered in his many experiments on humans and animals. But then things got more interesting! Because shortly thereafter, I read another book on chlorella by Dr. Jensen, Chlorella: Gem of the Orient (1987). Chlorella is single-cell freshwater algae with an RNA content in the range of 5–15%. Chlorella was being used extensively in Japan as a cure for virtually any illness.
My thoughts soon turned to developing a vegetable-based nutritional product that was a high-RNA superfood with nutrients that would support the body's use of and production of  nucleic acids. Soon, I was reading every book written by Dr. Frank (a great challenge and learning experience in itself!) in order to gain a deeper understanding of what was required by the body in order to produce and utilize RNA. Piece by piece, the the elements of the formula fell into place. In January 2007, Rejuvenate!™ was ready. Here's what Rejuvenate!™ contains:
INGREDIENTS AND AMOUNT PER SERVING IN REJUVENATE!™:
Chlorella (Chlorella pyrenoidosa) . . . . . . . . .      5,000 mg
Nutritional Yeast (no added ingredients) . . . .      1,500 mg
D-Ribose . . . . . . . . . . . . . . . . . . . . . . . . . . . . .       1,500 mg
Chia Seeds (Organically Grown) . . . . . . . . . . .     1,000 mg
Rice Bran Solubles . . . . . . . . . . . . . . . . . . . . .        1,000 mg
Spirulina Pacifica® . . . . . . . . . . . . . . . . . . . .        1,000 mg
Magnesium Malate . . . . . . . . . . . . . . . . . . . . . .        300 mg
Magnesium Ascorbate . . . . . . . . . . . . . . . . . . . .       290 mg
Chlorella Growth Factor (CGF) . . . . . . . . . . . . . .     150 mg
Organic Dulse. . . . . . . . . . . . . . . . . . . . . . . . . .            75 mg
Organic Kelp . . . . . . . . . . . . . . . . . . . . . . . . . .             75 mg
Yeast Ribonucleic Acid (RNA) . . . . . . . . . . . . . . . .    40 mg
Calcium Folinate. . . . . . . . . . . . . . . . . . . . . . .         260 mcg
Methylcobalamin (Vitamin B12). . . . . . . . . . . . .   100 mcg
For an in-depth discussion of Rejuvenate! (original) please visit the HPDI website.
We have been extremely pleased with this product and the results gained by the individuals who consume Rejuvenate!™. Below are some of the testimonials we have received from satisfied customers.
REJUVENATE!™ CUSTOMER EXPERIENCES
"…My Skin Has Never Looked Better!"
– Stefanie L, Tucson, Arizona
"…a real energy booster! I've been surprised to feel increased vitality right away when drinking even a half dose!"
– Susanne L., Salisbury, Maryland
"I want to run a marathon! I wouldn't be without this product for a day…"
– Karen W., Kirkcaldy, Scotland, UK
"I used to fight daily to not fall asleep in the afternoon, but now I have so much more energy…I go running in the afternoon even after surfing in the morning and waking up at 4:45 am!"
– Ariana H., Santa Cruz, California
"Best tasting green food I have tried out of many, congratulations!"
– Richard F., Virginia Beach, Virginia
"REJUVENATE! has been like a gift from God for my condition…thank you so much, more than words can ever say."
– Jason W., Lake Arrowhead, California
"I am feeling better than I have in 30 years. (I am 63 years old.)…You can bet you have a repeat customer here. I will surely recommend this product to others."
– D. Engel, Sibley, Iowa
A COMPLETE LINE OF REJUVENATE!™ SUPERFOODS
After formulating Rejuvenate! (original greens), I created a complete line of high-RNA Rejuvenate! superfoods that provide a broad range of additional benefits. These include Rejuvenate! PLUS and Rejuvenate! Berries & Herbs.
Original Rejuvenate!™ remains our "greenest" superfood formula and contains the most chlorella per serving. Rejuvenate!™ PLUS is a lighter green, slightly sweet tasting superfood with an added multivitamin complex, and it provides the same total amount of dietary nucleic acids. Rejuvenate!™ Berries & Herbs offers an amazing berry taste, contains no greens, and not only provides the same amount of dietary nucleic acids, but also a built-in multivitamin complex and a cell-protecting herbal complex.
We know how effective Rejuvenate!™ superfoods are for total body rejuvenation, boosting health, supporting recovery and healing, boosting exercise performance, and improving personal appearance. We'd like you to experience these benefits, too.
Try any one of the Rejuvenate!™ superfoods for yourself, so you can start gaining all the benefits of dietary nucleic acids today! See our Rejuvenate!™ comparison page for more details about HPDI's complete line of Rejuvenate! superfoods.
We also offer a pet version of Rejuvenate!™ known as Rejuvenate!™ For Pets. The ingredients in the pet Rejuvenate! formula are identical to the human version, but it comes packaged in a smaller container suitable for pets of all sizes and ideal for traveling.
SOURCES
Chlorella: Jewel of Far East, Bernard Jensen, PhD, 1992.
Chlorella: Gem of the Orient: The Dynamic Food Discovery for Health and Healing, Bernard Jensen, PhD, 1987.
Dr. Frank's No-Aging Diet, Dr. Benjamin Frank, 1976.
Nucleic Acid Nutrition & Therapy, Benjamin S. Frank, MD, 1977.
 Nucleic Acid Therapy in Aging and Degenerative Disease: A Metabolic Approach with DNA, RNA, and Related Metabolites, Benjamin S. Frank, 1969 (3rd ed.).
A New Approach to Degenerative Disease and Aging: Effects of RNA, DNA with Other Metabolites. Dr. Benjamin S. Frank, 1964.
Dr. Frank's No-Aging Diet Cookbook, Barbara Friedlander Meyer, Marilyn Peterson, and Benjamin S. Frank, 1977.
Food Healing for Man (vol. 1), Bernard Jensen, PhD, 1983.
Chia: Rediscovering a Forgotten Crop of the Aztecs, Dr. Wayne Coates and Dr. Ricardo Ayerza, Jr., 2005.