For many years, HPDI offered Pathway's Quercetin Plus formula. This product contained quercetin, rutin, and grape seed extract. About two years ago, however, the price of quercetin increased by a factor of four. We thought that this was a temporary increase due to a poor harvest, so we decided to wait until the price went back down before ordering again. Unfortunately, the price never came down!
During this two year period, many of our customers asked about the product. In response, we decided to bring back the formula back. But we used the opportunity to make significant improvements to it based upon recent research.
HPDI's newly improved Quercetin Plus is a blend of bioflavonoids and polyphenols contained in a veggie cap. The active ingredients include the highest-purity quercetin, rutin, oligomeric proanthocyanidins (OPC) from grape extract (derived from grape seeds, skins, and stems), VitaVeggie® (concentrated extracts and whole-vegetable powders, and turmeric extract (95% curcuminoids)). Bioperine, a black pepper extract, is included because it enhances the absorption of all nutrients in Quercetin Plus.
Through May 2013, Quercetin Plus is on sale for 20% off the regular price. You do not need a code. Just add it to your cart and the discount is automatic.

NUTRITIONAL CONSIDERATIONS & APPLICATIONS OF QUERCETIN PLUS
Bioflavonoids work synergistically with Vitamin C to rebuild small blood vessels and other structural parts of the body. In addition, many polyphenols act as powerful antioxidants and Nrf2 activators. By activating Nrf2 signaling, polyphenols can increase cellular detoxification and production of internal antioxidant enzymes, thereby enhancing removal of reactive oxygen species (ROS) and toxic chemicals.
Many fruits, vegetables, nuts, and seeds contain polyphenols and bioflavonoids. A diet rich in these foods may provide adequate amounts. However, if or when the diet does not provide an optimal intake of these substances (or if there is bodily injury or malfunction), we recommend a supplement providing 500 mg (or more) daily of these nutrients.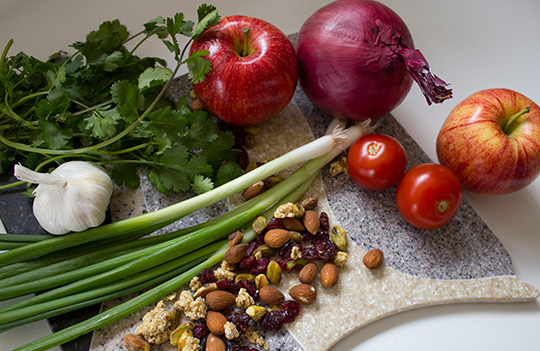 Quercetin (a bioflavonoid and known Nrf2 activator) exerts powerful anti-inflammatory effects, and may be helpful to individuals suffering from allergic reactions and/or from swelling due to injury. Quercetin also is known to reduce viral activity and may be helpful with chronic viral syndromes.
A study published in 2010 by Dr. Mark Davis, et. al. suggestes that as little as seven days of quercetin supplementation at 500–1,000 mg/day can increase endurance without exercise training in untrained participants. These benefits of quercetin may have important implications for enhancement of athletic and military performance. This apparent increase in fitness without exercise training may have implications beyond performance enhancement itself to health promotion and disease prevention. Please watch the video (below) to hear Dr. Davis discuss his research on quercetin.
Rutin, a bioflavonoid structurally similar to quercetin, is well-known for its effectiveness as a capillary strengthener and antioxidant. Rutin (quercetin-3-rutinoside) is a glycoside of the flavonoid quercetin. The chemical structure of rutin and quercetin consequently are very similar. Indeed, both rutin and quercetin are used in many countries as medications for blood vessel protection, and both are found as ingredients in numerous nutritional supplement preparations and herbal remedies. k-Rutin™ is an alkalinized form of rutin having greater solubility than the rutin included in conventional nutritional supplements.
RECOGNIZED HEALTH BENEFITS OF RUTIN
Rutin inhibits platelet aggregation and decreases capillary permeability, which thins blood and improves circulation
Rutin exerts anti-inflammatory activity
Rutin inhibits aldose reductase activity. Aldose reductase is an enzyme normally present in the eye and elsewhere in the body. It helps change glucose into a sugar alcohol called sorbitol that is associated with cataract formation
Rutin strengthens capillaries. It therefore can reduce symptoms of capillary- and circulatory-related health conditions, including hemophilia. It also may help prevent common venous edemas of legs and feet.
Rutin can reduce cytotoxicity of oxidized LDL cholesterol and reduce the risk of heart disease
Evidence indicates rutin can be used to treat hemorrhoids, varicosis, and microangiopathy
Rutin acts as an antioxidant. A study of the superoxide anion scavenging activity of rutin and six other flavonoids (including quercetin, morin, acacetin, hispidulin, hesperidin, and naringin) showed rutin had the strongest scavenging activity.
Rutin provides essential support molecules for Vitamin C absorption and helps prevent breakdown of Vitamin C in the body before it is metabolized
Rutin is believed to stabilize the collagen matrix by preventing free-radical damage, thereby helping to maintain the health of the body's collagen
The oligomeric proanthocyanidins (OPC) in BioVin® grape extract (derived from grape seeds, skins, and stems) provide a highly bioavailable bioflavonoid complex as well as Nrf2 activators. They are extremely powerful antioxidants (20 times more powerful than Vitamin C in vitro), potent anti-inflammatories, and collagen strengtheners. OPCs readily cross the blood-brain barrier and thereby may be helpful to persons suffering from allergic reactions or from swelling due to injury. Other active ingredients in grape extract include anthocyanidins and transresveratrol. An ORAC5.0™ test on grape seed extract has shown an ORAC value of 94,000 micromole TE/g – a very high value! In addition, the test shows that grape seed extract is effective against a broad range of free radical types.
VitaVeggie® is the finest high ORAC source of 100% non-GMO vegetable antioxidants, concentrated extracts and whole-vegetable powders. VitaVeggie® is derived from the richest broccoli and broccoli sprouts, vine-ripened tomatoes, the freshest leafy spinach and kale, baby California carrots, Brussels sprouts, and the highest-quality onions from the Pacific Northwest. More potent than fresh vegetables, just one gram of VitaVeggie® provides 5,000 ORAC units (peroxyl). VitaVeggie® is standardized to contain a minimum of 1,000 ppm sulforaphane and 2,000 ppm glucosinolates, which are both well known Nrf2 activators. Anthocyanins, lycopene, lutein, chlorogenic acid, beta-carotene, ellagic acid, quercetin and quinic acid are all found in VitaVeggie®.
 Other VitaVeggie® Features and Benefits
High-ORAC source of natural vegetable antioxidants
Helps prevent effects of premature aging
Promotes cardiovascular health
Promotes healthy brain function and mental acuity
Promotes healthy vision
Promotes healthy blood sugar levels
Excellent source of flavonoids and organic acids
Promotes urinary tract health
We have included curcuminoids (95%) in this product. This includes three main chemical compounds (Curcumin, Demethoxycurcumin and Bisdemethoxycurcumin) all derived from turmeric. Curcuminoids have been shown to be Nrf2 transcription factor activators. Studies have reported that curcumin and turmeric protect the liver against several toxicants both in vitro and in vivo. Curcumin is a potent scavenger of free radicals such as superoxide anion radicals, hydroxyl radicals, and nitrogen dioxide radicals. It exerts powerful antioxidant and anti-inflammatory properties.
We include Bioperine®, a pepper extract, in the formula to enhance the absorption of all nutrients.
QUERCETIN PLUS COMPOSITION TABLE
COMPOSITION: One veggie cap provides the following nutrients:
NUTRIENT
AMOUNT
Quercetin (dihydrate)
250 mg
k-Rutin™
250 mg
Grape Extract (seeds, skins & stems)
20 mg
VitaVeggie®
20 mg
Turmeric Extract (95% curcuminoids)
20 mg
Bioperine®
2.5 mg
For more information on HPDI's Quercetin Plus formula: http://www.integratedhealth.com/hpdspec/quercetin.html
ADDITIONAL RESOURCES
"The Dietary Flavonoid Quercetin Increases VO(2max) and Endurance Capacity"
"Quercetin Increases Brain and Muscle Mitochondrial Biogenesis and Exercise Tolerance"