Every year, HPDI publishes several articles from the Orthomolecular New Service (OMNS). This month we share a news release from OMNS about the fact in 2015 there were no deaths caused by nutritional supplements, including vitamins, minerals, amino acids, homeopathics, or herbs.
===
FOR IMMEDIATE RELEASE
Orthomolecular Medicine News Service, January 3, 2017
NO DEATHS FROM NUTRITIONAL SUPPLEMENTS, INCLUDING VITAMINS, MINERALS, AMINO ACIDS, HOMEOPATHICS, OR HERBS.
SAFETY CONFIRMED BY AMERICA'S LARGEST DATABASE.
by Andrew W. Saul, Editor
(OMNS, Jan 3, 2017) There were no deaths whatsoever from vitamins in the year 2015. The 33rd annual report from the American Association of Poison Control Centers shows zero deaths from multiple vitamins. And, there were no deaths whatsoever from vitamin A, niacin, pyridoxine (B-6) any other B-vitamin. There were no deaths from vitamin C, vitamin D, vitamin E, or from any vitamin at all.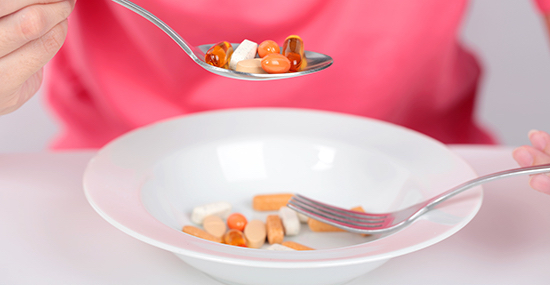 Not only are there no deaths from vitamins, there are also zero deaths from any supplement. The most recent (2015) information collected by the U.S. National Poison Data System, and published in the journal Clinical Toxicology (1), shows no deaths whatsoever from dietary supplements.
NO DEATHS FROM VITAMINS
Zero deaths from vitamins. Want to bet this will never be on the evening news? Well, have you seen it there? And why not?
After all, over half of the U.S. population takes daily nutritional supplements. If each of those people took only one single tablet daily, that makes some 170,000,000 individual doses per day, for a total of well over 60 billion doses annually. Since many persons take far more than just one single vitamin tablet, actual consumption is considerably higher, and the safety of vitamin supplements is all the more remarkable.
It was claimed that one person died from vitamin supplements in the year 2015, according to AAPCC's interpretation of information collected by the U.S. National Poison Data System. That single alleged "death" was supposedly due to "Other B-Vitamins." This was claimed back in 2012 as well, with no substantiation then, either. Indeed, the AAPCC report specifically indicates no deaths from niacin (B-3) or pyridoxine (B-6). That therefore leaves folic acid, thiamine (B-1), riboflavin (B-2), biotin, pantothenic acid, and cobalamin (B-12) as the remaining B-vitamins that could be implicated. However, the safety record of these vitamins is extraordinarily good; no fatalities have ever been confirmed for any of them.
Abram Hoffer, MD, PhD, repeatedly said: "No one dies from vitamins." He was right when he said it and he is still right today. The Orthomolecular Medicine News Service invites submission of specific scientific evidence conclusively demonstrating death caused by a vitamin.
NO DEATHS FROM MINERALS
There were zero deaths from any dietary mineral supplement. This means there were no fatalities from calcium, magnesium, chromium, zinc, colloidal silver, selenium, iron, or multimineral supplements. Reported in the "Electrolyte and Mineral" category was a fatality from the medical use of "Sodium and sodium salts" and another fatality from non-supplemental iron, which was clearly and specifically excluded from the supplement category.
NO DEATHS FROM ANY OTHER NUTRITIONAL SUPPLEMENT
Additionally, there were zero deaths from any amino acid or herbal product. This means no deaths at all from blue cohosh, echinacea, ginkgo biloba, ginseng, kava kava, St. John's wort, valerian, yohimbe, Asian medicines, ayurvedic medicines, or any other botanical. There were zero deaths from creatine, blue-green algae, glucosamine, chondroitin, or melatonin. There were zero deaths from any homeopathic remedy.
WHEN IN DOUBT, BLAME A SUPPLEMENT
There actually was one fatality alleged from some "Unknown Dietary Supplement or Homeopathic Agent." This is hearsay at best, and scaremongering at worst. How can an accusation be based on the unknown? Claiming causation without even knowing what substance or ingredient to accuse is baseless.
TRUTH: NO MAN, WOMAN, OR CHILD DIED FROM ANY NUTRITIONAL SUPPLEMENT
If nutritional supplements are allegedly so "dangerous," as the FDA, the news media, and even some physicians still claim, then where are the bodies? There aren't any.
REFERENCES
Mowry JB, Spyker DA, Brooks DE et al. 2015 Annual Report of the American Association of Poison Control Centers' National Poison Data System (NPDS): 33rd Annual Report. Clinical Toxicology 2016, 54:10, 924-1109, http://dx.doi.org/10.1080/15563650.2016.1245421
Data for vitamins, minerals, herbs, amino acids, and other supplements are presented in Table 22-B.
The complete 187-page article is available for free download from https://aapcc.s3.amazonaws.com/pdfs/annual_reports/2015_AAPCC_NPDS_Annual_Report_33rd_PDF.pdfor download this and all previous AAPCC Annual Reports at http://www.aapcc.org/annual-reports/
Nutritional Medicine is Orthomolecular Medicine
Orthomolecular medicine uses safe, effective nutritional therapy to fight illness. For more information: http://www.orthomolecular.org
Find a Doctor
To locate an orthomolecular physician near you: http://orthomolecular.org/resources/omns/v06n09.shtml
The peer-reviewed Orthomolecular Medicine News Service is a non-profit and non-commercial informational resource.
Editorial Review Board:
Ian Brighthope, M.D. (Australia)
Ralph K. Campbell, M.D. (USA)
Carolyn Dean, M.D., N.D. (USA)
Damien Downing, M.D. (United Kingdom)
Michael Ellis, M.D. (Australia)
Martin P. Gallagher, M.D., D.C. (USA)
Michael J. Gonzalez, N.M.D., D.Sc., Ph.D. (Puerto Rico)
William B. Grant, Ph.D. (USA)
Tonya S. Heyman, M.D. (USA)
Suzanne Humphries, M.D. (USA)
Ron Hunninghake, M.D. (USA)
Michael Janson, M.D. (USA)
Robert E. Jenkins, D.C. (USA)
Bo H. Jonsson, M.D., Ph.D. (Sweden)
Jeffrey J. Kotulski, D.O. (USA)
Peter H. Lauda, M.D. (Austria)
Thomas Levy, M.D., J.D. (USA)
Stuart Lindsey, Pharm.D. (USA)
Victor A. Marcial-Vega, M.D. (Puerto Rico)
Dave McCarthy, M.D. (USA)
Joseph Mercola, D.O. (USA)
Jorge R. Miranda-Massari, Pharm.D. (Puerto Rico)
Karin Munsterhjelm-Ahumada, M.D. (Finland)
W. Todd Penberthy, Ph.D. (USA)
Jeffrey A. Ruterbusch, D.O. (USA)
Gert E. Schuitemaker, Ph.D. (Netherlands)
Thomas L. Taxman, M.D. (USA)
Jagan Nathan Vamanan, M.D. (India)
Ken Walker, M.D. (Canada)
Atsuo Yanagisawa, M.D., Ph.D. (Japan)
Andrew W. Saul, Ph.D. (USA), Editor-In-Chief
Robert G. Smith, Ph.D. (USA), Assistant Editor
Helen Saul Case, M.S. (USA), Assistant Editor
Michael S. Stewart, B.Sc.C.S. (USA), Technology Editor
Jason M. Saul, JD (USA), Legal Consultant
Comments and media contact: drsaul@doctoryourself.com OMNS welcomes but is unable to respond to individual reader emails. Reader comments become the property of OMNS and may or may not be used for publication.
To Subscribe to the Orthomolecular News Service (OMNS) free: http://www.orthomolecular.org/subscribe.html
OMNS Archive: http://orthomolecular.org/resources/omns/index.shtml