Ultimate Protector™ contains freeze dried cranberry, as well as components from 29 different fruits, vegetables, and herbs. Each of these ingredients contain substances that may be considered to be polyphenols, antioxidants, and Nrf2 activators. In this article I explore the ingredient strawberries, which is a component of VitaBerry Plus® from Futureceuticals.
VITABERRY PLUS®
VitaBerry® (N1023) is the trade name for a line of high ORAC blends of fruit powders and fruit extracts, exclusively available through FutureCeuticals.
VitaBerry® is a proprietary formula that combines wild bilberry and wild blueberry, cranberry, raspberry, strawberry, prune, cherry, and grape whole powders and extracts into lines of custom blends. High in fruit polyphenols, anthocyanins, proanthocyanins, ellagic acid, chlorogenic acid, resveratrol, and quinic acid, VitaBerry offers 6,000 ORAC units in a single gram.
VitaBerry® Plus (N81.3) combines the standard blend of VitaBerry® with resveratrol and quercetin to deliver a minimum of 12,000 ORAC units per gram.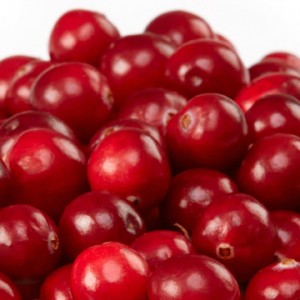 HEALTH BENEFITS OF CRANBERRIES
Cranberries (Vaccinium macrocarpon) are native to the boggy regions of temperate and subalpine North America and Europe. Although Native Americans used them extensively, they were first cultivated in the U.S. in the early 19th century. Cranberries grow on viney plants belonging to the heath family Ericaceae that also includes blueberries, bilberries, huckleberries, and bearberries (Arctostaphylos uva ursi). Cranberries contain tannins, fiber, anthocyanins (and other flavonoids), and Vitamin C. Their tannins prevent bacteria from attaching to cells. Consequently, cranberries have been used against infections, including urinary tract infections. In addition, cranberries may be helpful in protecting against heart disease and stroke.
Cranberries are an especially good source of antioxidant polyphenols. In animal studies, the polyphenols in cranberries have been found to decrease levels of total cholesterol and so-called "bad" cholesterol. Cranberries may also inhibit the growth of tumors in human breast tissue and lower the risk of both stomach ulcers and gum disease. 
Here is a list of the antioxidant and anti-inflammatory phytonutrients in found in cranberries.
Type of Phytonutrient             Specific Molecules
Phenolic Acids                             hydroxybenzoic acids including vanillic acids;
—Phenolic Acids (cont.)             hydroxycinnamic acids inculding caffeic,
—Phenolic Acids (cont.)             coumaric, cinnamic, and ferulic acid
Proanthocyanidins                     epicatechins
Anthocyanins                              cyanidins, malvidins, and peonidins
Flavonoids                                   quercetin, myricetin, kaempferol
Triterpenoids                              ursolic acid
Other Cranberry Information
Cranberries hold significantly high amounts of phenolic flavonoid phytochemicals called oligomeric proanthocyanidins (OPC's). Scientific studies have shown that consumption of the berries have potential health benefits against cancer, aging and neurological diseases, inflammation, diabetes, and bacterial infections.
Antioxidant compounds in cranberries including OPC's, anthocyanidin flavonoids, cyanidin, peonidin and quercetin may prevent cardiovascular disease by counteracting against cholesterol plaque formation in the heart and blood vessels. Further, these compounds help the human body lower LDL cholesterol levels and increase HDL-good cholesterol levels in the blood.
Scientific studies show that cranberry juice consumption offers protection against gram-negative bacterial infections such as E.coli in the urinary system by inhibiting bacterial-attachment to the bladder and urethra.
In is known that cranberries turns urine acidic. This, together with the inhibition of bacterial adhesion helps prevent the formation of alkaline (calcium ammonium phosphate) stones in the urinary tract by working against proteus bacterial-infections.
In addition, the berries prevent plaque formation on the tooth enamel by interfering with the ability of the gram-negative bacterium, Streptococcus mutans, to stick to the surface. In this way cranberries helps prevent the development of cavities.
The berries are also good source of many vitamins like vitamin C, vitamin A, ß-carotene, lutein, zea-xanthin, and folate and minerals like potassium, and manganese.
Oxygen Radical Absorbance Capacity (ORAC) demonstrates cranberry at an ORAC score of 9584 µmol TE units per 100 g, one of the highest in the category of edible berries.
For more information on cranberries visit the sites given below:
https://www.healthambition.com/health-benefits-of-cranberry-juice/
or
http://www.whfoods.com/genpage.php?tname=foodspice&dbid=145
Scientific Studies on the Antioxidant Effects of Cranberry
Below, I provide relevant scientific studies on the antioxidant effects and potential health benefits of cranberries.
Prevention of oxidative stress, inflammation and mitochondrial dysfunction in the intestine by different cranberry phenolic fractions.
Abstract
Cranberry fruit has been reported to have high antioxidant effectiveness that is potentially linked to its richness in diversified polyphenolic content. The aim of the present study was to determine the role of cranberry polyphenolic fractions in oxidative stress (OxS), inflammation and mitochondrial functions using intestinal Caco-2/15 cells. The combination of HPLC and UltraPerformance LC®-tandem quadrupole (UPLC-TQD) techniques allowed us to characterize the profile of low, medium and high molecular mass polyphenolic compounds in cranberry extracts. The medium molecular mass fraction was enriched with flavonoids and procyanidin dimers whereas procyanidin oligomers (DP > 4) were the dominant class of polyphenols in the high molecular mass fraction. Pre-incubation of Caco-2/15 cells with these cranberry extracts prevented iron/ascorbate-mediated lipid peroxidation and counteracted lipopolysaccharide-mediated inflammation as evidenced by the decrease in pro-inflammatory cytokines (TNF-α and interleukin-6), cyclo-oxygenase-2 and prostaglandin E2. Cranberry polyphenols (CP) fractions limited both nuclear factor κB activation and Nrf2 down-regulation. Consistently, cranberry procyanidins alleviated OxS-dependent mitochondrial dysfunctions as shown by the rise in ATP production and the up-regulation of Bcl-2, as well as the decline of protein expression of cytochrome c and apoptotic-inducing factor. These mitochondrial effects were associated with a significant stimulation of peroxisome-proliferator-activated receptor γ co-activator-1-α, a central inducing factor of mitochondrial biogenesis and transcriptional co-activator of numerous downstream mediators. Finally, cranberry procyanidins forestalled the effect of iron/ascorbate on the protein expression of mitochondrial transcription factors (mtTFA, mtTFB1, mtTFB2). Our findings provide evidence for the capacity of CP to reduce intestinal OxS and inflammation while improving mitochondrial dysfunction.
 Chemical characterization and chemo-protective activity of cranberry phenolic powders in a model cell culture. Response of the antioxidant defenses and regulation of signaling pathways
Abstract
Oxidative stress and reactive oxygen species (ROS)-mediated cell damage are implicated in various chronic pathologies. Emerging studies show that polyphenols may act by increasing endogenous antioxidant defense potential. Cranberry has one of the highest polyphenol content among commonly consumed fruits. In this study, the hepato-protective activity of a cranberry juice (CJ) and cranberry extract (CE) powders against oxidative stress was screened using HepG2 cells, looking at ROS production, intracellular non-enzymatic and enzymatic antioxidant defenses by reduced glutathione concentration (GSH), glutathione peroxidase (GPx) and glutathione reductase (GR) activity and lipid peroxidation biomarker malondialdehyde (MDA). Involvement of major protein kinase signaling pathways was also evaluated. Both powders in basal conditions did not affect cell viability but decreased ROS production and increased GPx activity, conditions that may place the cells in favorable conditions against oxidative stress. Powder pre-treatment of HepG2 cells for 20 h significantly reduced cell damage induced by 400 μM tert-butylhydroperoxide (t-BOOH) for 2 h. Both powders (5–50 μg/ml) reduced t-BOOH-induced increase of MDA by 20% (CJ) and 25% (CE), and significantly reduced over-activated GPx and GR. CE, with a significantly higher amount of polyphenols than CJ, prevented a reduction in GSH and significantly reduced ROS production. CJ reversed the t-BOOH-induced increase in phospho-c-Jun N-terminal kinase. This study demonstrates that cranberry polyphenols may help protect liver cells against oxidative insult by modulating GSH concentration, ROS and MDA generation, antioxidant enzyme activity and cell signaling pathways.
Cranberry extract suppresses interleukin-8 secretion from stomach cells stimulated by Helicobacter pylori in every clinically separated strain but inhibits growth in part of the strains
From: http://www.sciencedirect.com/science/article/pii/S1756464613000364
Abstract
It is known that cranberry inhibits the growth of Helicobacter pylori (HP). In human stomach, HP basically induces chronic inflammation by stimulating stomach cells to secrete interleukin (IL)-8 and other inflammatory cytokines, and causes stomach cancer, etc. The aim of this study was to investigate the inhibiting effects of cranberry on HP growth and IL-8 secretion from stomach cells induced by HP, using clinically separated HP strains. HP growth in liquid culture and on-plate culture was evaluated by titration after 2-day incubation and by agar dilution technique, respectively. For IL-8 experiments, MKN-45, a stomach cancer cell line, was incubated with HP for 24 h and IL-8 in the medium was assayed by ELISA. Cranberry suppressed growth of the bacteria only in six of the 27 strains. Meanwhile, it suppressed IL-8 secretion in all the strains. The results may suggest a possible role of cranberry in prevention of stomach cancer by reducing gastric inflammation.
Effects of cranberry powder on biomarkers of oxidative stress and glucose control in db/db mice
From: http://www.ncbi.nlm.nih.gov/pubmed/24353827
Abstract
Increased oxidative stress in obese diabetes may have causal effects on diabetic complications, including dyslipidemia. Lipopolysccharides (LPS) along with an atherogenic diet have been found to increase oxidative stress and insulin resistance. Cranberry has been recognized as having beneficial effects on diseases related to oxidative stress. Therefore, we employed obese diabetic animals treated with an atherogenic diet and LPS, with the aim of examining the effects of cranberry powder (CP) on diabetic related metabolic conditions, including lipid profiles, serum insulin and glucose, and biomarkers of oxidative stress. Forty C57BL/KsJ-db/db mice were divided into the following five groups: normal diet + saline, atherogenic diet + saline, atherogenic diet + LPS, atherogenic diet + 5% CP + LPS, and atherogenic diet + 10% CP + LPS. Consumption of an atherogenic diet resulted in elevation of serum total cholesterol and atherogenic index (AI) and reduction of high density lipoprotein (HDL)-cholesterol. However, with 10% CP, the increase in mean HDL-cholesterol level was close to that of the group with a normal diet, whereas AI was maintained at a higher level than that of the group with a normal diet. LPS induced elevated serum insulin level was lowered by greater than 60% with CP (P < 0.05), and mean serum glucose level was reduced by approximately 19% with 5% CP (P > 0.05). Mean activity of liver cytosolic glutathione peroxidase was significantly increased by LPS injection, however it was reduced back to the value without LPS when the diet was fortified with 10% CP (P < 0.05). In groups with CP, a reduction in mean levels of serum protein carbonyl tended to occur in a dose dependent manner. Particularly with 10% CP, a reduction of approximately 89% was observed (P > 0.05). Overall results suggest that fortification of the atherogenic diet with CP may have potential health benefits for obese diabetes with high oxidative stress, by modulation of physical conditions, including some biomarkers of oxidative stress.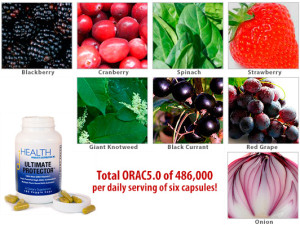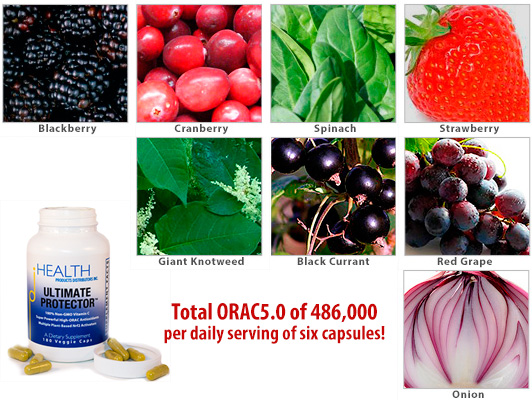 SUMMARY
Cranberries are an important fruit full of polyphenols, anthocyanins, antioxidants, and Nrf2 activators that help to make Ultimate Protector such an outstanding nutritional supplement.