The scientific evidence for Vitamin D3 continues piling up. It is abundantly clear a large percentage of the global population is deficient in Vitamin D3, and that supplements can make a huge difference for people to avoid and prevent deficiency of this critical nutrient.
During a period when people are self-isolating and mostly indoors—and there is an immediate coronavirus threat—it is time to act on the science supporting Vitamin D3.
It is now well known that Vitamin D plays critical roles in fighting viruses and building immunity. Many doctors now routinely advise patients to take high doses of Vitamin D3, especially in the winter when both Vitamin D levels and sun exposure are lowest.
"I have found the value of bolstering immune function with Vitamin D to be incredibly powerful." – Dr. Jeffery Rutersbusch
William Grant, PhD, says: "Coronaviruses cause pneumonia as does influenza. A study of the case-fatality rate from the 1918-1919 influenza pandemic in the United States showed that most deaths were due to pneumonia. The SARS-coronavirus and the current China coronavirus were both most common in winter, when vitamin D status is lowest." [1–5]
VITAMIN D3 PLUS
VITAMIN D3 PLUS is HPDI's complete vitamin D3 formula. It was designed by Hank Liers, PhD to not only provide Vitamin D3, but also Vitamin K2 and Vitamin A both of which support the body's uptake and use of Vitamin D3.
We have covered Vitamin D3 in previous posts such as Vitamin D3 Superstar! and Vitamin D3 for Health, and various other articles. In fact, Dr. Hank formulated Vitamin D3 PLUS 10 years ago, and it has become one of our best-selling products. As the general understanding that Vitamin D3 is critical for health increased, more people are taking action to supplement their diet with supplements like Vitamin D3 PLUS.
VITAMIN D3 PLUS is designed as an advanced Vitamin D formula providing high-dose Vitamin D3. Vitamin D3 is the natural form of Vitamin D produced in the body from sunlight and is the form best used for therapeutic purposes.
One softgel capsule of Vitamin D3 Plus provides 125 mcg (5,000 IU) of Vitamin D3 derived from highly purified and molecularly distilled fish liver oils. In addition, the product contains 300 mcg (1,000 IU) of Vitamin A also derived from highly purified and molecularly distilled fish liver oils and 10 mcg of Vitamin K2 from menaquinone-7.
Vitamin D3 Plus includes synergistic nutrients known to enhance absorption and use of Vitamin D3 in the body. These nutrients include Vitamin K2 (menaquinone-7) (10 mcg), which which works together with Vitamin D to help boost bone density, improve cardiovascular health, and boost immunity.
Vitamin D3 Plus also provides 300 mcg (1,000 IU) of Vitamin A, a nutrient known to work powerfully with Vitamin D to help create optimal health. As dosages of Vitamin D increase, ideally your dosage of Vitamin A also will increase, and vice versa. The formula also includes natural Vitamin E as an antioxidant.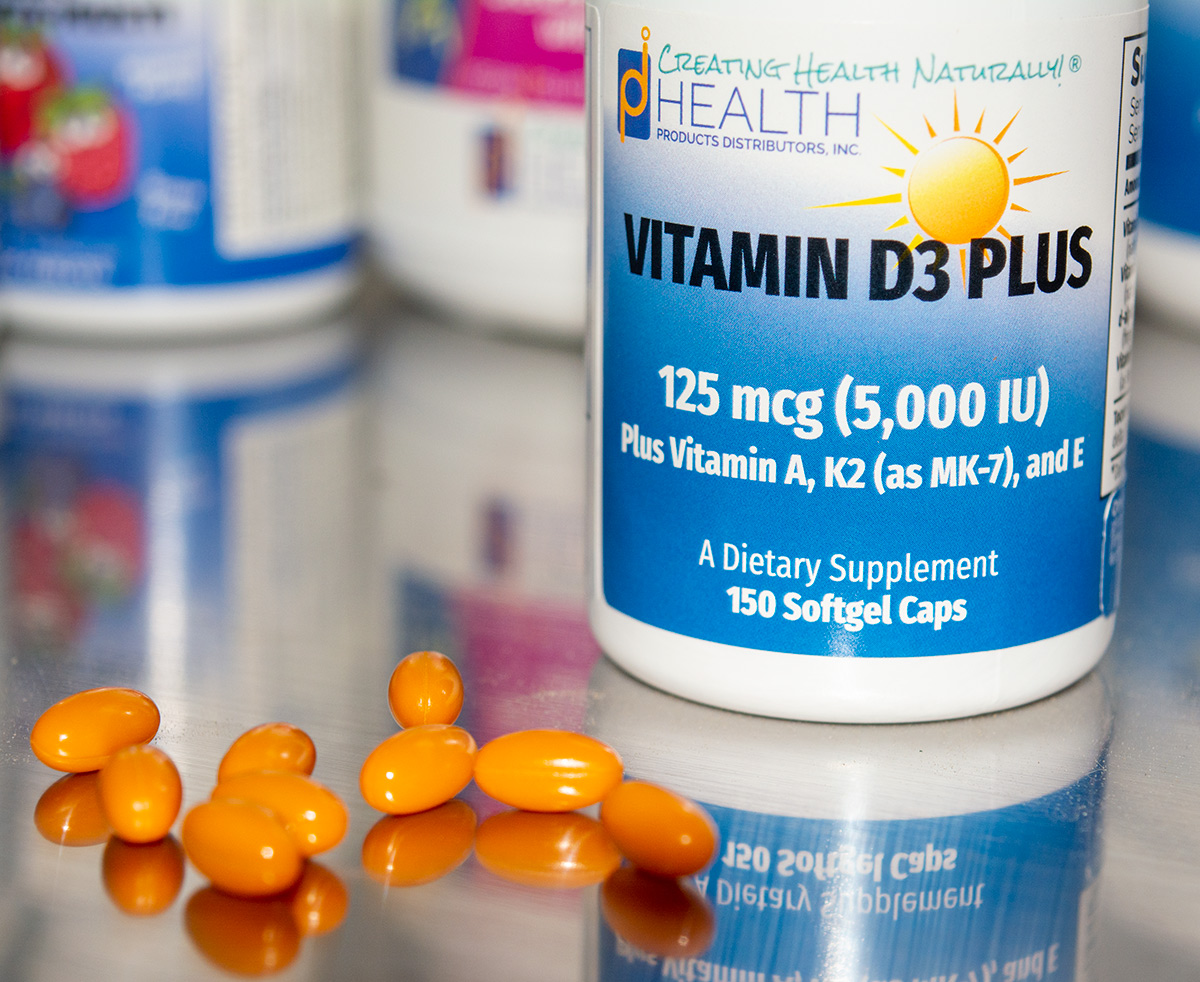 IMPORTANT VITAMIN D FACTS
In a world of sun avoidance, sun blocks, working indoors, latitudinal effects, etc., nearly the entire population suffers in multiple ways from Vitamin D3 deficiency
Human beings optimally produce 10,000–20,000 IU of Vitamin D3 (cholecalciferol) when exposed to full sunlight on a significant portion of skin for about 30 minutes
The body starts to gain the full benefits of Vitamin D3 only after it produces (or intakes orally) about 5,000 IU Daily
Vitamin D3 is a prehormone with powerful effects and with few exceptions cannot be obtained in sufficient amounts from diet
VITAMIN D3 PLUS FORMULATED FOR OPTIMAL HEALTH
Vitamin D3 is a fat-soluble vitamin increasingly known as a nutrient essential for health and well-being. Recent studies show that almost all body systems benefit from adequate Vitamin D intake/production. Therefore, it is important that the body receive optimal amounts in order to build the best health. In fact, recent studies indicate that 5,000 IU of Vitamin D3 is an ideal amount for daily intake. What is notable about this amount is that the body does not gain the full benefits from Vitamin D until it reaches this "threshold" level of about 5,000 IU. While the body stores Vitamin D, it must first be given an adequate supply.
Because Vitamin D3 is important for all body systems, the benefits of adequate Vitamin D are numerous. Adequate Vitamin D not only helps to ensure good health, but also supports the body in preventing and combating a wide range of conditions. When taken in adequate dosages (one or two 5,000 IU capsules daily), Vitamin D3 can provide the following benefits: 1) stronger bones, 2) enhanced immunity, 3) protection from autoimmune diseases, 4) improved blood sugar control, 5) normalized blood pressure, 6) prevention of tumors, 7) protection against flu, 8) better balance, 9) prevention of autism, 10) improved mood, 11) reduction of chronic pain, 12) improved dental health, 13) improved muscle strength, 14) prevention of birth defects, 15) improved prostate health, 16) better bowel health, 17) supports individuals with Multiple Sclerosis, 18) reduced symptoms of PMS, and 19) many other benefits.
The oils in Vitamin D3 Plus are emulsified by the addition of a non-GMO sunflower lecithin that ensures excellent uptake by the body. Vitamin E as tocopherols and tocotrienols derived from Oryza rice bran oil are included to protect against oxidation in the product and in the body. In addition, the rice bran oil is used to enhance the absorption of the fat-soluble Vitamin D and Vitamin A.
Vitamin D3 Plus may be taken with Hank & Brian's Essential Fats Plus E. This combination is an ideal way to obtain essential fatty acids, Vitamin D, Vitamin A, Vitamin E, and Vitamin K2. Taking other Foundational Supplements provides additional benefits.
VITAMIN D DEFICIENCY IS EPIDEMIC WORLDWIDE
Vitamin D deficiency currently is a worldwide epidemic with more than one billion people at risk for diseases associated with low Vitamin D status. Vitamin D is proven safe and effective for a wide range of health conditions (see above and below). There are various reasons for this epidemic, including a significant portion of the world's population living in northerly latitudes (where sunlight is inadequate during many months of the year), sun avoidance, time spent indoors, etc.
VITAMIN D3 MORE EFFECTIVE THAN D2
Vitamin D3 Plus provides only the Vitamin D3 form of Vitamin D. We avoid the use of Vitamin D2. Vitamin D2 has greater potential for toxicity, poorer absorption, and reduced effectiveness. Vitamin D3 is the preferred form of Vitamin D…and the form that gives you the best health.

VITAMIN D3 PLUS FROM HIGHLY PURIFIED FISH LIVER OIL
Vitamin D3 Plus provides Vitamin D3 from purified fish (cod) liver oil. Our formula comes in a softgel (instead of a standard capsule) for greater purity. In a softgel, the oil does not contain other ingredients (like cornstarch) commonly used to microencapsulate Vitamin D oil into powders used in capsule forms. The softgel form allows us to avoid using undesirable fillers and excipients. This means you avoid undesirable additives.
VITAMIN D3 PLUS OFFERS SUPERIOR ABSORPTION
Vitamin D3 PLUS includes non-GMO sunflower lecithin to act as an emulsifier of Vitamin D thereby ensuring effective absorption. In addition, the use of rice bran oil further supports absorption of fat-soluble Vitamin D. Optimizing absorption of Vitamin D is critical especially in cases of Crohn's disease, Celiac disease (gluten intolerance), and irritable bowel syndrome. In these conditions, individuals often suffer from osteoporosis, kidney disease, etc. Better absorption means greater effectiveness.
NATURAL FORMS OF VITAMIN E PREVENT OXIDATION
Vitamin D3 PLUS includes Orzya rice bran oil because the fish liver oils in the formula are susceptible to oxidation. Oryza rice bran oil provides significant amounts of Vitamin E in the form of mixed tocotrienols and tocopherols, which are powerful antioxidants. These forms of Vitamin protect the product and keep Vitamin D3 Plus fresh, and act as powerful antioxidants in the body.
VITAMIN D3 PLUS INCLUDES VITAMIN A
Vitamin D3 Plus includes 300 mcg (1,000 IU) of Vitamin A along with Vitamin D3. We include Vitamin A because it is known that Vitamin A and Vitamin D act synergistically. Normal bone remodeling requires both Vitamin A and Vitamin D. In addition, when Vitamin D levels are inadequate, high dose Vitamin A may cause bone loss. However, no observed bone loss occurs when there are adequate levels of Vitamin D (more than 2,000 IU daily). Chris Masterjohn discusses the topic in his seminal article "Vitamin A on Trial: Does Vitamin A Cause Osteoporosis?" (see Weston A. Price Foundation website). Masterjohn states that Vitamin A taken in conjunction with Vitamin D is required for proper bone remodeling in the body. Vitamin A and Vitamin D not only act synergistically in the body, but also when taken together ensure protection from the effects of taking either one alone in high doses.
VITAMIN K2 REQUIRED FOR VITAMIN D FUNCTION
Vitamin D3 Plus includes 10 mcg of Vitamin K2 (the menaquinone-7 or MK-7 form) per softgel in our formula. Vitamin K2 (especially as MK-7) is necessary for the proper activation of bone matrix proteins by conferring on them the physical ability to bind calcium (i.e., to build strong bones). Research also shows that Vitamin K2 can help remove calcium from soft tissues in the body and instead put the calcium into bony structures (i.e., where it serves to build a strong skeletal system). Vitamin D3 Plus can help put the health-building powers of Vitamin K2 (as menaquinone-7) to work for optimal health.
Chris Masterjohn elegantly discusses the role of Vitamin K2 in bone formation in his groundbreaking article "On the Trail of the Elusive X-Factor: A Sixty-Two-Year-Old Mystery Finally Solved" (see Weston A. Price Foundation website). Because Vitamin K2 is needed to facilitate the function of Vitamin D in proper bone formation (including tooth structure), Masterjohn states that Vitamin D toxicity is most likely a case of Vitamin K2 deficiency. It is clear that adequate Vitamin K2 both protects against Vitamin D toxicity and supports the effective use of Vitamin D in the body.
In Health Benefits of Vitamin K-2: A Revolutionary Natural Treatment for Heart Disease and Bone Loss (2006), Larry Howard and Anthony Payne, PhD, assert that as little as 6 mcg (micrograms) of Vitamin K2 (as MK-7) can be beneficial. The half-life of Vitamin K2 (as MK-7) is about three days in the body. This means that as few as 6 mcg of Vitamin K2 is beneficial because the levels increase by a factor of three when its taken regularly.
It is notable that Vitamin K2 is found naturally in fermented foods, including some cheeses, sauerkraut, natto (i.e., a traditional Japanese dish of fermented soybeans), and in dairy products, eggs, and certain meats. However, the vast majority of individuals in the world do not receive adequate amounts of Vitamin K2 from their diets. Now anyone can gain the important benefits of Vitamin K2 along with the benefits of Vitamin D and Vitamin A by taking Vitamin D3 Plus.
VITAMIN D3 PLUS
NUTRITIONAL CONSIDERATIONS AND APPLICATIONS
Vitamin D, calciferol, is a fat-soluble vitamin. It is found naturally in some animal foods, but also can be made in the body after exposure to ultraviolet rays from the sun. It is known that season, latitude, time of day, cloud cover, smog, and use of sunscreens affect UV ray exposure. For example, in northern areas of the US the average amount of sunlight from November through February is insufficient to produce significant Vitamin D synthesis in the skin. Sunscreens with a sun protection factor (SPF) of 8 or greater will block UV rays that produce Vitamin D even in regions of the US where sunlight is plentiful.
MINERAL METABOLISM
The liver and kidney help convert vitamin D to its active hormone form. The major biologic function of Vitamin D is maintaining normal blood levels of calcium and phosphorus. Vitamin D aids in the absorption of calcium, helping to form and maintain strong bones. It promotes bone mineralization in conjunction with a number of other vitamins, minerals (especially magnesium), and hormones. While adequate sun exposure is an ideal means to obtain Vitamin D, most of the population cannot obtain sufficient sunlight during fall and winter months to maintain optimal Vitamin D levels. Vitamin D3 Plus offers a solution for keeping Vitamin D at optimal levels for health.
When there is insufficient Vitamin D in the body, bones can become thin, brittle, soft, or misshapen. Vitamin D prevents rickets (in children) and osteomalacia (softening of bones) (in adults). These skeletal diseases result in defects that can severely weaken bones. It is estimated that over 25 million adults in the United States either have developed osteoporosis or are at risk of developing it. Osteoporosis is a disease characterized by fragile bones. It results in increased risk of bone fractures. Vitamin D deficiency was recognized as the cause of rickets and osteomalacia 75 years ago. The prevention and cure of these diseases with fish liver oil was a triumph for nutritional science and since then the body's requirement for Vitamin D has been linked to these conditions.
Vitamin D deficiency also has been associated with greater incidence of hip fractures. In older women, a higher Vitamin D intake from diet and supplements is associated with less bone loss. Vitamin D supplementation therefore may help prevent fractures resulting from osteoporosis and the loss of bone. Vitamin D supplements offer a significant means for strengthening bones and skeletal structures, and for preventing bone weakness or bone loss leading to osteomalacia, osteoporosis, and other conditions related to weak bones.
VITAMIN D SERVES MANY FUNCTIONS
Vitamin D affects major aspects of human health beyond its classical role in mineral metabolism. It is well established that the active form of Vitamin D acts an effective regulator of cell growth and differentiation in a number of different cell types. Laboratory, animal, and epidemiologic evidence strongly suggest that Vitamin D may be protective against some tumorigenesis. The active form of Vitamin D therefore plays a critical role in supporting good health.
Vitamin D deficiency has been associated with insulin deficiency and insulin resistance. It was shown recently that Vitamin D deficiency is likely a major factor for the development of type 1 diabetes in children. Insulin resistance is also one of the major factors leading not only to tumor formation, but also to heart disease—by far the leading cause of death in the USA. Northern countries have higher levels of heart disease and more heart attacks occur in the winter months.
Degenerative arthritis of the knee and hip progresses more rapidly in people who have lower concentrations of Vitamin D. Infertility is associated with low levels of Vitamin D, and PMS has been completely reversed by the addition of calcium, magnesium, and Vitamin D. Activated Vitamin D in the adrenal gland regulates tyrosine hydroxylase, the rate limiting enzyme necessary for the production of dopamine, epinephrine, and norepinephrine. Low Vitamin D levels also may contribute to chronic fatigue and depression. Seasonal Affective Disorder (SAD) has been treated successfully with Vitamin D.
Multiple Sclerosis, Sjogren's Syndrome, rheumatoid arthritis, thyroiditis and Crohn's disease have all been linked with low Vitamin D levels. It has been shown that long term low-level exposure to sunlight normalizes immune function and enhances immune cell production. This reduces abnormal inflammatory responses, such as those found in autoimmune disorders, and reduces occurrences of infectious disease.
Vitamin D deficiency also has been linked with obesity. Vitamin D recently has been shown to lower leptin secretion. Leptin is a hormone produced by fat cells and is involved in weight regulation. Obesity itself lessens the bioavailability of Vitamin D from skin and dietary sources because it is deposited in body fat. Vitamin D deficiency, moreover, has been clearly linked with Syndrome X (also known as Metabolic Syndrome). Syndrome X refers to a cluster of health conditions that includes insulin resistance (the inability to effectively process dietary carbohydrates and sugars), abnormal blood fats (e.g., elevated cholesterol and triglycerides), high blood pressure, and obesity.
VITAMIN A BENEFITS
Vitamin A is useful for many health conditions, including vision problems, poor thyroid function, and weakened immunity. Vitamin A is highly effective against infections (especially those that involve the mucous membranes) largely because it is critical to the formation of tissues lining the digestive, respiratory, reproductive, and urinary tracts. It is also required for the digestion of protein, and for lactation, reproduction, healthy skin and eyes, and the formation of steroid hormones. Vitamin A deficiency can result in a number of health problems, including night blindness, dry eyes, eye infections, and skin conditions. Vitamin A works together with Vitamin D and Vitamin K2 to maintain healthy bones. Vitamin D has been shown to prevent Vitamin A toxicity. Vitamin D3 Plus includes Vitamin A because Vitamin A and Vitamin D work together to support health.
VITAMIN K2 BENEFITS
Vitamin K2 in the form of MK-7 has been shown in numerous studies to extract calcium from the blood and arteries and deposit calcium into growing or aging bones. In addition, MK-7 appears to have the potential to prevent or even reverse some forms of heart disease and, at the same time, do the same for bone loss. It is believed that patients would be able to be treated with doses of vitamin D that possess greater therapeutic value than those currently being used while avoiding the risk of adverse effects by administering Vitamin D together with Vitamins A and K2. Vitamin D3 Plus includes Vitamin K2 (as MK-7) because MK-7 provides unique benefits for health that complement the benefits offered by Vitamin D. They act synergistically to provide other benefits beyond the benefits each by itself can provide.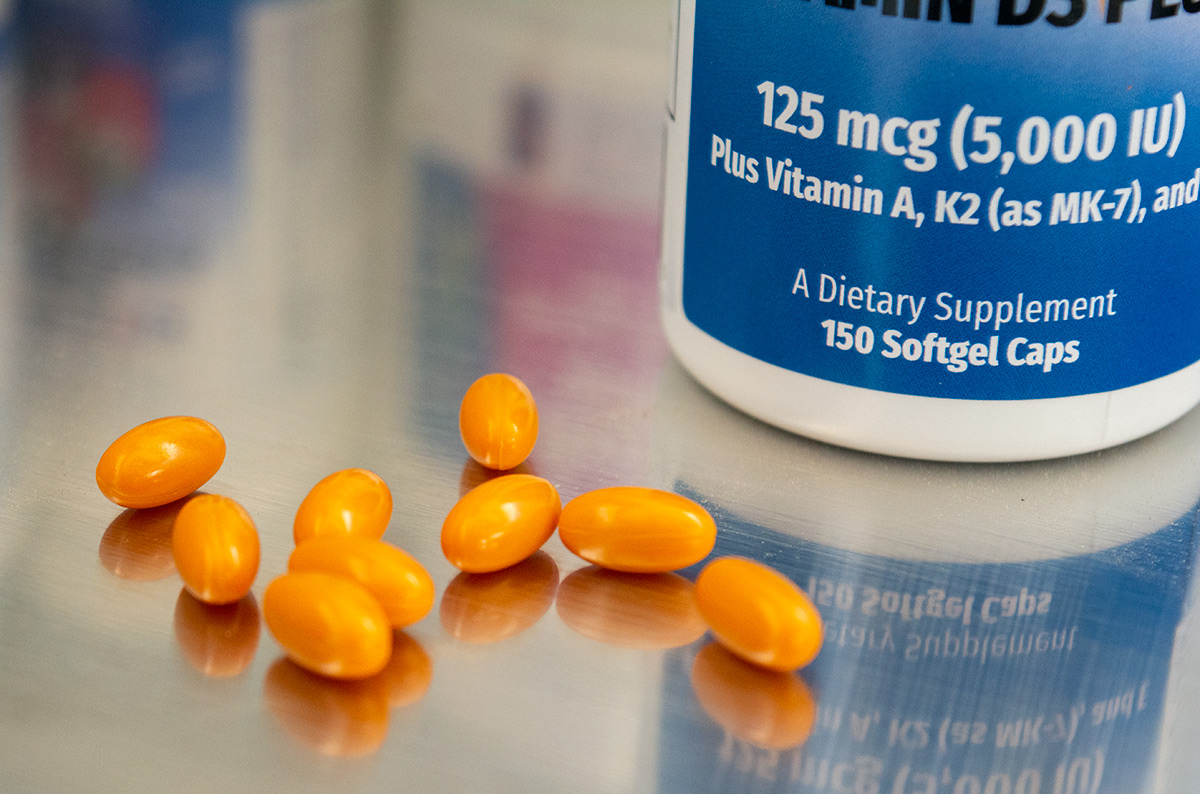 VITAMIN D3 PLUS INFORMATION
COMPOSITION: One softgel capsule of VITAMIN D3 PLUS provides the following percentages of the US Daily Value for adults:
RECOMMENDATIONS: Recent research on Vitamin D suggests that most people will benefit from 125 mcg (5,000 IU) of Vitamin D3 daily (unless there is some constraining lifestyle factor or medical reason). Due to its long half-life (about 30 days) in the body, Vitamin D can be taken effectively in smaller doses if needed (e.g., 5,000 IU taken fewer times per week). For example, taking one capsule once per week would give a daily equivalent dose of about 714 IU (i.e., 5,000 IU divided by seven days).
Additional important nutrients you need to take with Vitamin D3 in order to achieve maximum benefits include magnesium, calcium, zinc, and boron. These additional nutrients are included in our foundational supplements (multivitamins, essential fats, Vitamin C formulas, and Rejuvenate!™ superfoods) and bone formulas (Bone Jour!™ and Bone Guardian).
DIRECTIONS: As a dietary supplement take one capsule of Vitamin D3 Plus daily with food, or as directed by a health care professional. Note: when exposure to direct sunlight is adequate, your requirements for supplemental Vitamin D may be correspondingly lower.
INGREDIENTS: Fish liver oil (providing Vitamin D3), bovine source gelatin (shell), glycerin (shell), yellow beeswax (shell), purified water (shell), rice bran oil, non-GMO sunflower lecithin, Oryza oil, turmeric powder (shell), Vitamin K2 (menaquinone-7), and fish liver oil (providing Vitamin A).
VITAMIN D3 PLUS does not contain wheat, rye, oats, corn, barley, soy, gluten, sugar, wax, egg, yeast, dairy, GMOs, sulfates, chlorides, coloring agents, or artificial preservatives.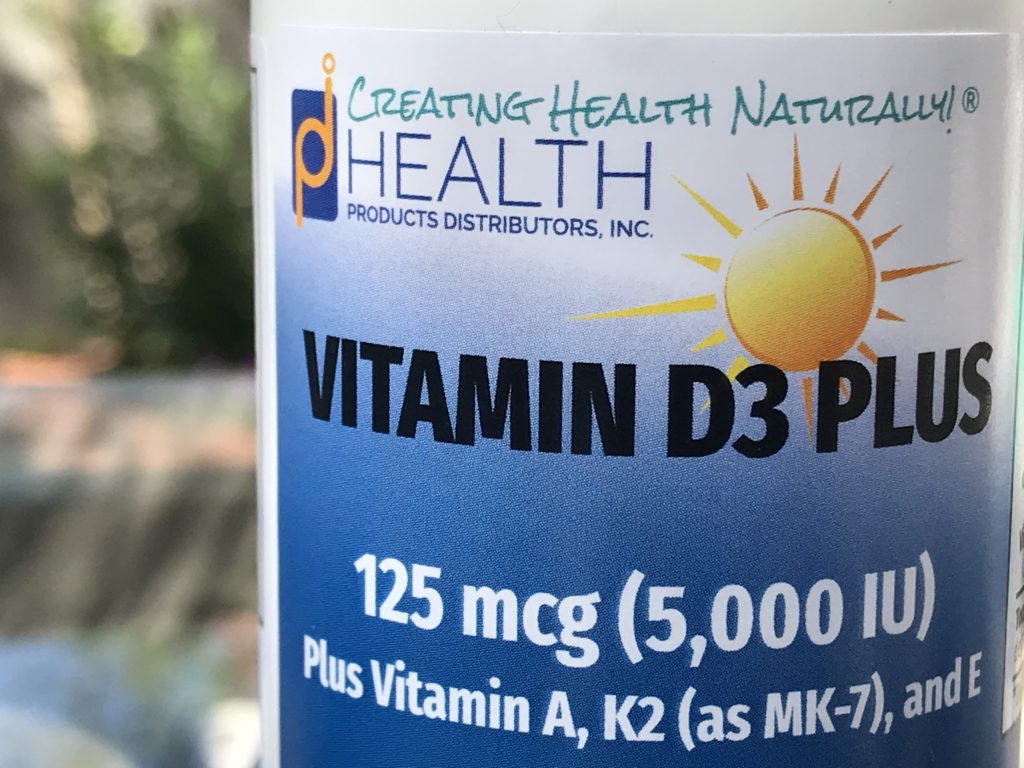 VITAMIN D RESOURCES
Products
VITAMIN D3 PLUS
(detailed product information)
Blog Articles
Question about Purity of Fish Liver Oil in Vitamin D3 Plus
Other Resources
Vitamin D Supplements Could Reduce Risk of Influenza and COVID-19 Infection and Death
Nutritional Treatment of Coronavirus
References
1. Cannell JJ, Vieth R, Umhau JC, Holick MF, et al. (2006) Epidemic influenza and vitamin D. Epidemiol Infect. 134:1129-1140. https://www.ncbi.nlm.nih.gov/pubmed/16959053.
2. Grant WB, Giovannucci E. (2009) The possible roles of solar ultraviolet-B radiation and vitamin D in reducing case-fatality rates from the 1918-1919 influenza pandemic in the United States. Dermatoendocrinol. 1:215-219. https://www.ncbi.nlm.nih.gov/pubmed/20592793.
3. Martineau AR, Jolliffe DA, Hooper RL et al. (2017) Vitamin D supplementation to prevent acute respiratory tract infections: systematic review and meta-analysis of individual participant data. BMJ. 356:i6583. https://www.ncbi.nlm.nih.gov/pubmed/28202713.
4. Yin Y, Wunderink RG. (2018) MERS, SARS and other coronaviruses as causes of pneumonia. Respirology. 2018 Feb;23(2):130-137. https://www.ncbi.nlm.nih.gov/pubmed/29052924.
5. Zhu N, Zhang D, Wang W, et al., China Novel Coronavirus Investigating and Research Team. (2020) A Novel Coronavirus from Patients with Pneumonia in China, 2019. N Engl J Med. 2020 Jan 24. doi: 10.1056/NEJMoa2001017. [Epub ahead of print] https://www.ncbi.nlm.nih.gov/pubmed/31978945.
Further Reading
Vitamin D3 for Health: A New Review Article by Dr. Michael Holick