Four years ago I attended a business meeting in which we were discussing the subject of topical pain relief and formulas that could be used for this purpose. We were considering the use of a formula that a local doctor had developed that contained the ingredients dimethylsulfoxide (DMSO), hydrogen peroxide (H2O2), peppermint oil, and dimethylsulfone (MSM). During our discussion when it became clear that the local doctor's formula would not be made available to our group, I quickly volunteered to develop a topical pain relief formula.
DESIGN CONSIDERATIONS
Over the past twenty years I had formulated and refined several hundred nutritional products, but had not developed a topical pain relief formula. However, in my kitchen research laboratory I had concocted and refined a wide variety of formulas including those for pain relief.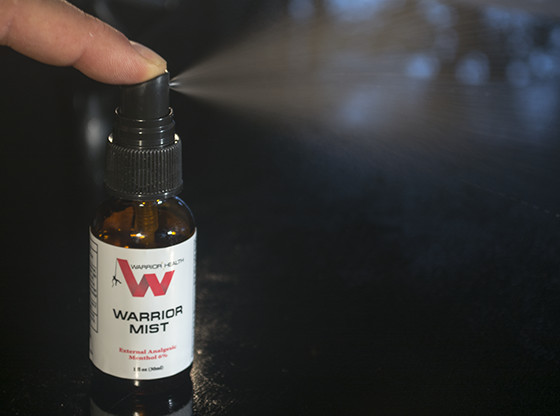 Ingredients I had used in developing pain relief formulas include DMSO; chlorella and chlorella growth factor; herbs such as cayenne, aloe vera, arnica, and St. John's Wort; essential oils such as peppermint (including menthol crystals), wintergreen, lavender, and lemon; the ingredients in Dr. Richard Schulze's deep tissue massage oil (includes olive oil, wintergreen oil, peppermint oil, cayenne, ginger root, arnica flowers, St. John's Wort flowers, marigold flowers, and comfrey); coconut oil; MSM; and magnesium chloride.
Before selecting ingredients for the pain relief formula, I established a list of goals for it. I felt the formula should meet these goals:
Provide effective temporary pain relief
Provide longer lasting pain relief (hours versus minutes)
Act fast (should give pain relief within minutes of application)
Use natural ingredients
Be completely safe (in contrast to many oral pain killers)
Smell good
Feel pleasant on the skin
Exhibit healing qualities regarding the causes of pain
Have inherent antimicrobial properties
In addition, I was seeking an ultra low-dose transdermal formula. Transdermal application means the ingredients go directly where they need to go to deal with localized pain. Unlike capsules or tablets, when using transdermal application the ingredients avoid dilution in the digestive tract and processing by the liver, and immediately go to work. Because of the effectiveness of the carrier ingredients and active ingredients, you would need just a few (2–4) drops per use. This means hundreds of applications per one ounce bottle. This means both effectiveness and cost effectiveness!
Ideally, the formula would use a base starting mix of ingredients that function as transdermal carriers and in addition possess a broad range of characteristics (pain killers, antioxidants, oxygen transporters, antiinflammtories, blood flow enhancers, etc.) These could include: 1) dimethylsulfoxide (DMSO), 2) Methylsulfonylmethane (MSM), 3) Ancient Minerals magnesium chloride (hexahydrate) including over 50 trace minerals (found in sea water), 4) Organic extra virgin olive oil (full of antioxidants), 5) Organic coconut oil (a powerful antimicrobial), 6) Aloe vera, and 6) Distilled water.
An interesting thing about this starting mix is that the combination of ingredients are totally compatible with each other which is not obvious initially. For example, DMSO (a liquid) and MSM (a powder) mix well together and have been called an oxygen transport system in the body. Water and DMSO are totally miscible and when mixed together form a eutectic mixture that can substantially lower the freezing point of the ingredients.
The oils in coconut oil also are partially miscible in DMSO and the combination also leads to the depression of the freezing point of the mixture. Oleic acid, the primary ingredient in olive oil is totally miscible in DMSO. Thus it appears that this combination of ingredients could act as an excellent carrier of the active pain killers deeply into the tissues in a local area.
The formula should have essential oils chosen primarily for their affect on pain. These are already considered to be ultra low-dose ingredients in the field of Aromatherapy. In addition, essential oils provide antimicrobial protection to the formula. For example, my initial choice for essential oils in Warrior Mist was peppermint oil (containing about 45% menthol) and lavender oil as pain killers, lemon oil as emulsifier, and all three both as good smelling ingredients and antimicrobials. Interestingly, subsequent microbiological testing has shown that there are absolutely no microbes of any kind in the product.
Initially, I selected chlorella growth factor (CGF) as an additional ingredient that can stimulate healing on a local level using very small amounts. However, due to availability issues with this ingredient, CGF has recently been eliminated from the formula. I chose Ancient Minerals Magnesium Oil as an active ingredient because it provides healing properties at the local level when used transdermally.
I chose not to add Aloe Vera to this formula as it added more volume than wanted and diluted some of the other ingredients. (I did use Aloe vera in my Warrior Energy product that I formulated later in order to reduce the sensation of burning).
THE FORMULA
All of the above ingredients are natural and extremely safe! Below I will discuss each of the included ingredients in some detail.
COMPOSITION / INGREDIENTS: DMSO (99.999% pure), peppermint oil (containing about 45% menthol), organic olive oil, distilled water, MSM, magnesium chloride (hexahydrate), lemon oil, lavender oil, and organic coconut oil.
DMSO Dimethyl sulfoxide (DMSO), a by-product of the wood industry, has been in use as a commercial solvent since 1953. DMSO is found as an ingredient in numerous foods including sauerkraut, tomato paste, milk, beer, coffee, tea and in forage crops such as alfalfa.
Furthermore, in 125 countries throughout the world doctors prescribe it for a variety of issues, including inflammation. DMSO has been used widely as a carrier in topical analgesic formulas. Laboratory studies have shown that DMSO is able to block peripheral nerve C fibers. Burns, cuts, and sprains have been treated with DMSO. Relief is reported to be almost immediate, lasting up to 6 hours. DMSO reduces inflammation by several mechanisms. It is an antioxidant, a scavenger of the free radicals that gather at the site of injury.
Studies have shown DMSO to be one of the safest ingredients known with a toxicity similar to that of water. DMSO has long been used to promote healing both in animals and humans. Those who have used it for minor cuts and burns report that recovery is speedy. Several studies have documented DMSO use with soft tissue damage, local tissue death, skin ulcers, and burns. Applied topically and repeatedly, DMSO flattens the raised, nodular, lobed liner mass of scar tissue in keloids and acne.
MSM MSM is a naturally occurring nutrient found in normal human diets. In the body DMSO and MSM, which form each other, are indistinguishable in their biochemical effects. They reach a equilibrium distribution between them that is dependent on the local body chemistry, and is independent of which one you start with.
The metabolic enhancement mechanism of MSM and DMSO is that of an exceptionally effective oxygen transport system. This system is made particularly effective by the feature that both DMSO and MSM are highly soluble in both oil and water. MSM makes cell walls permeable, allowing water and nutrients to freely flow into cells and allowing wastes and toxins to properly flow out. The body uses MSM along with Vitamin C to create new healthy cells, and MSM provides the flexible bond between the cells. Without proper levels of MSM, our bodies are unable to build healthy cells, and this leads to problems such as lost flexibility, scar tissue, wrinkles, varicose veins, hardened arteries, damaged lung tissues, dry cracking skin, digestive disorders, joint problems, and inability to defend against allergic reactions to food, animals and plants.
The applications of MSM include pain control (analgesic), inflammation control, dilation of blood vessels, increased blood flow, reduced muscle spasm, altering the crosslinking process in collagen (e.g., reducing scar tissue,) anti-parasitic effects (particularly against Giardia), and immune normalizing effects. MSM has a unique ability to pass through cellular membranes (including skin).
Peppermint Oil The primary constituent of peppermint oil is menthol (about 45%), which causes a physical reaction when inhaled or applied to the skin. Menthol produces an immediate and pronounced sensation of coolness that effects the body quite noticeably, and creates a "warming effect" as blood flows into the area of application. In this regard menthol is regarded as a counter-irritant and is an active ingredient approved by FDA in OTC topical analgesic products.
Peppermint oil can be used externally for providing relief from pain. Peppermint oil increases your immunity. It also improves blood circulation. Additional conditions for the use of peppermint oil include: acne, asthma, colds, cramps, dermatitis, exhaustion, influenza, headache, insect bites, mental fatigue, migraine, nausea, nerve pain, neuralgia, poor circulation, and respiratory disorders.
Lavender Oil Lavender oil helps in treating migraines, headaches, anxiety, depression, nervous tension and emotional stress. The refreshing aroma removes nervous exhaustion and restlessness and increases mental activity. Because it induces sleep, it is often recommended for insomnia.
Lavender oil is also an excellent remedy for various types of pains including those caused by sore muscles, tense muscles, muscular aches, rheumatism, sprains, backache, and lumbago. A regular massage with lavender oil provides relief from pain in the joints.
Lavender oil is also good for improving blood circulation in the body. The health benefits of lavender oil for the skin can be attributed to its antiseptic and antifungal properties. It is used to treat various skin conditions, including acne, wrinkles, psoriasis, and other inflammatory conditions. It heals wounds, cuts, burns, and sunburns rapidly because it aids in the formation of scar tissues. It is also effective against insect bites. The oil also repels mosquitoes and moths.
Lemon Oil Lemon oil is powerfully astringent and antiseptic. Lemon oil is detoxifying and is therefore good for blemishes associated with oily skin. Lemon oil is a powerful antioxidant and is a tonic for supporting the nervous and sympathetic nervous system.
It's been long known that lemon oil is anti-infective, antibacterial (especially with spores), and antiviral. It can function as a disinfectant and exerts vitamin P-like action for improving microcirculation, promotes white blood cell formation, and improves immune function. It has also been widely used in skin care to cleanse skin and reduce wrinkles.
Magnesium Chloride Magnesium chloride (hexahydrate) applied to the skin is an effective means for increasing magnesium levels in the body, and is particularly useful for relieving sore muscles and joints, and reducing pain related to functional magnesium deficiency. It is also proven for use in helping to calm "nerves" and reduce systemic bodily stress.
Because the magnesium targets muscle tissues, it is thereby especially useful for replenishing depleted soft tissues and helping restore proper function. Magnesium is necessary for the production of energy in the body. When the body receives adequate amounts of magnesium, it can produce the levels of energy required to sustain the body and enable it to thrive. Magnesium chloride is proven for use in a variety of general applications, including bruises, cramps, muscle tension, and migraine headaches.
Olive Oil Used as a base and mixed with other essential oils, olive oil makes a wonderful oil for skin health. In fact, it has been touted as one of the oldest healing and beauty techniques. A biblical reference from about 493 BCE documents the daily massage with olive oil and other oils as a part of the beauty regimen.
Coconut Oil Coconut oil is a superb skin lotion because it both nourishes skin and is naturally anti-bacterial, antiviral, and antifungal due to its high content of medium chain triglycerides.
OUR EXPERIENCES
The first batch of Warrior Mist was made by me in my kitchen in May of 2011 using ingredients I had on hand, weighed out using a microbalance I owned, and combined in a small glass jar.
My partners and I tested the mixture and found that it worked well as a pain killer. I was able to source all of the ingredients rather quickly and soon found a company willing to produce and bottle the formula.
We produced our first batch in August 2011 and began selling the product in amber glass dropper bottles at Kiosks in shopping malls. We found that the results obtained for pain relief were exactly what we were hoping for – fast acting (usually within a few minutes), long lasting (up to 8 hours), and widely applicable to many different types of pain.
We also discovered that Warrior Mist had no side effects. None of the ingredients in Warrior Mist are known to have any side effects in regular use, especially at the lower dosages made possible through transdermal use.
Soon we were selling Warrior Mist at sporting events such as marathons and triathlons. Users were getting amazing results and testimonials were flooding in. We quickly realized that we had a very special product on our hands and moved quickly to make it broadly available through radio and TV ads.
TESTIMONIALS
One of our earliest and most amazing testimonials for Warrior Mist is given below:
Another early testimonial that gave us a clue as to just how effective Warrior Mist is:
"I admit to being very skeptical, however, a few minutes after applying Warrior Mist to my hands and wrists, the pain was gone! Shocking! Nothing, and I seriously mean nothing, had ever worked before. Now I can drive without pain, type without pain, do housework without pain, garden without pain, and do household repairs without pain. I've suffered from devastating chronic pain for 35 years. My life had become so limited. Warrior Mist will not only help me, but my husband will also be unburdened from having to do everything for me!"
Laura C., PhD/PH
Here is a testimonial from a person who manufactures Warrior Mist for us:
I have been using Warrior Mist for over a year now and it has been truly a God send. I use the Mist for my migraines and my back. I have a slipped disk and when I do certain things to irritate it, it is like disturbing a bee's nest. I have been in bed for two days now and the only thing that alleviates the pain enough for me to stay comfortable is the Warrior Mist. I just wanted to take the time to thank you for creating this wonderful product.
Kellie K.
Here's a representative testimonial from an online buyer:
I recently purchased the Warrior Mist Pain Reliever and found that it works great. The nice thing about this product is that it has a very pleaseant smell and doesn't leave you feeling like your wearing a pain relieving product. Putting this product on and then going to bed really helps with a good nights sleep as I used to wake up half way through the night in pain again.
Kimberly S.
Here's another testimonial from an online buyer:
As a retired police detective with 32 years on the job I have a lot of aches and pains in every joint in my body. My wife and I have tried every external pain reliever on the market with little to no results. My order came yesterday so I tried it on my wife who has some nerve pain in her upper back. Within 15 minutes she told me her back actually felt better. I had her put it on my lower back – always hurts after a work out. Almost instantly my back did not hurt and during the night it felt like I had an ice pack on my back.
Alan K.
Here's a testimonial from an athlete:
I was about to compete in a race and sprained my ankle two days before. I had a cortisone shot and it didn't work at all. I tried Warrior Mist and got instant and total relief! I was able to run the race. Great stuff!"
Jill P.,
My partner, Herb, has applied Warrior Mist to thousands of people at Kiosks, Rock & Roll Marathons, TriAthlete Events, and State Fairs. He has told me that frequently (many hundreds of times!!!) when someone came to him in pain and he convinced them to try it out, the typical reaction within just a few minutes of applying it is "It can't be! – my pain is gone! – I don't believe this!"
HOW TO MAXIMIZE THE EFFECTIVENESS OF WARRIOR MIST
Warrior Mist LLC personnel have helped thousands of people in pain apply Warrior Mist on painful areas of their bodies. In about 99% of these cases people have experienced major pain relief within minutes. While doing this we have learned much about how to apply Warrior Mist in different pain situations in order to get the maximum benefit.
Our experience has shown us that surrounding the pain gives a superior results. By this we mean that whenever possible Warrior Mist should be applied above, below, to the sides, and behind the painful areas. The discussion below regarding a range of pain conditions gives further insight into what we mean by surrounding the pain.
Plantar Fasciitis – Apply Warrior Mist to the area giving you pain, generally speaking where the heel meets the arch of your foot, but also surround the pain by applying it around the area and on top of the foot as well.
Knee Pain – Most of the time we find that sufferers feel the pain on the front of the knee or side (like a torn meniscus). Of course apply the Warrior Mist there, but we have found that surrounding the pain by applying on the back of the knee makes the pain simply disappear.
Lower Back Pain – Surround the pain. This means that most folks feel lower back pain in a specific spot, like the base of the spine in the lumbar. Apply Warrior Mist there of course, but also apply it across the width of the entire lower back to relieve the pain and reduce spasms that may be occurring.
Sciatica – Characterized by shooting pains down the leg, it is really important to use Warrior Mist at the root of the pain, the lower back. Apply on the lumbar, then to the side where the pain is shooting towards. It is usually unnecessary to apply Warrior Mist down the leg as this is referred pain from the lower back.
Headache – headaches come in many forms and most folks mislabel them. Migraine is a common term but usually what we see when people come up to us at an event and complain of having a migraine it is either a tension related headache or one related to neck pain. True migraines are usually marked by seeing lines or squiggles and nausea including vomiting. If you suffer from true migraines, Warrior Mist can help if you get it on early enough, but in all honesty if you don't the pain may be so intense that a prescription medication or injection might be in order. For the vast majority though, Warrior Mist will reduce or eliminate pain if used properly. As we always say, surround the pain. Apply to the back of the neck, behind the ears, and the temples. Relief should come on fast!
Shin Splints – Surround the pain by applying to the front of the leg, the shin itself, but also a bit behind the leg on the calf.
Restless Leg Syndrome – We have two suggestions to surround the pain and stop RLS from keeping you awake all night long. First, apply Warrior Mist directly to any pain or itching areas of your leg. Second, always apply it behind the knee as well. Customers tell us that this does the trick and they sleep all night long.
Neck Pain – This one is easy; make sure you surround the pain by treating the entire back of your neck and not just one little area that hurts. Lots of neck pain is referred, meaning that you feel it in one place but it is coming from another. Also, always treat the neck when you are treating shoulder pain as well. Lots of that is referred as well.
Shoulder Pain – Shoulder pain is hard to pinpoint because there are so many tendons, muscles, and ligaments in the shoulder. If you have a specific injury caused by, say throwing a baseball or lifting weights, then treat and surround the affected area. But, if you woke up one day and your shoulder started hurting for no apparent reason, treat the neck and then down the length of the shoulder including the rotator cuff.
Tennis/Golfers' Elbow – Surround the pain and apply Warrior Mist on the entire circumference of the elbow, inside and out to make sure to erase the pain!
Carpal Tunnel Syndrome – Surround the pain by applying Warrior Mist to the carpal tunnel area itself and then around the circumference of the wrist front and back.
Hand Pain and Lack of Mobility – Surround the pain by applying a few drops of Warrior Mist to the palm of your hand and the rubbing it all over both hands front and back much like old time movie and cartoon villains did. Think Snidely Whiplash in old Dudley Doright cartoon. Your hands are going to feel great in a minute and have greatly increased mobility!
Skin Conditions – These are pretty easy to treat. Just apply Warrior Mist directly to the site of the irritation. Now, being realistic, look for immediate relief from the itching and pain, but the actual irritation make take some time and repeated applications to completely clear up. It varies from person to person.
Toothache – Tip the bottle of Warrior Mist with your hand over the applicator and put one drop on the tip of your finger. Then, rub it around the base of the tooth and gum and feel the immediate relief. Oh, and it is going to taste very minty but not sweet. The taste will disappear in a minute or so but the relief will last for hours. Please remember, Warrior Mist does not cure dental disease. It is meant to relieve pain while you are waiting for an appointment with a dentist.
CONCLUSION
As can be seen from the testimonials and as we know from our firsthand experience, Warrior Mist is an amazingly effective topical pain relief formula. To me it is gratifying that I was able to meet all of my design goals for the product and that it has helped so many people deal with their pain.