A few years ago, I was introduced to a vegetable juice recipe known as "The Doctor." The basic recipe is simple: carrots, beets, ginger, garlic, and lemon. After making and drinking this juice on a regular basis, I find I remain healthier all year. Not only do I feel better, but virtually never get sick, even in winter.
Since then I have tried various modifications to the basic juice recipe. Some of my favorite additions are parsley, spinach, cilantro, celery, cucumber, turmeric, jalapeño peppers, and lime. I juice these with the original ingredients whenever possible, and depending on what vegetables are in season or available. In particular, I find parsley removes any garlic odor, which might otherwise hinder social activity after consuming "The Doctor."
I drink a lot more green vegetable juices these days. Greens I juice include kale, chard, broccoli, spinach, arugula, beet greens, mustard, and other greens. Yet, I still find myself gravitating toward my favorite blend of carrots, beets, and greens. Into this vegetable juice blend I occasionally juice an apple, which adds a touch a sweetness. This is ideal when sharing this drink with my five year old (and I make sure to leave out the garlic, too).
I personally find there is something powerful and almost magical in the mix of ginger, garlic, and lemon that keeps me coming back. I have literally chased colds away. Other times, I have felt distinct energetic movements in my chest area. That must be the ginger's effect. I have also noticed improved visual acuity. In any event, these spicy ingredients are warming and satisfying to the palate, as well as mind, body, and soul.
Although winter is a distant memory and summer is coming on fast, I still enjoy this recipe, and it's in my juicing repertoire all four seasons. I recommend you try it, and see how you like it.
THE DOCTOR RECIPE (all ingredients should preferably be organic)
2–3 lbs carrots
1 large beet (including greens)
1 clove garlic (or more)
1 inch ginger
1 lemon (or lime)
ADDITIONAL INGREDIENTS (OPTIONAL)
1–2 handfuls parsley and/or spinach
1 stalk celery
1 cucumber
1 jalapeño pepper
1 scoop Rejuvenate!™ (original greens) superfood (or superfood of your choice)
Any other ingredients you like
LET'S MAKE JUICE: Select the ingredients that appeal most to you. It's helpful to have an experimental, creative mindset because you never know what you might like if you don't try different combinations of ingredients you haven't juiced before. The best juice combinations often arise from trying something new.
Juice all ingredients using a vegetable juicer. A centrifugal juicer works fine, but for the highest quality juice, try a Green Star (twin gear) or Hurom (single augur) juicer. Strain and/or stir (if necessary), then drink. This juice is best sipped slowly and savored. The beets make this juice red, which will vary from dark red to orange-red depending on the ratio of carrots to beets.
Note: You can run the entire lemon (or lime) through your juicer, or you can squeeze the juice separately and pour it into your juice.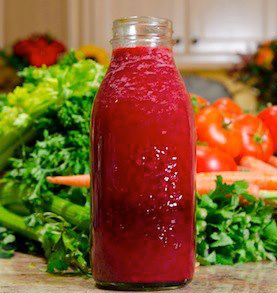 HOT PEPPERS IN VEGETABLE JUICES
If you've never juiced hot peppers before, then start small using 1/3 of a jalapeño pepper. Work your way to an entire pepper. As you adjust to higher levels of heat, you may find you enjoy habanero peppers in your vegetable juice, like I do. If you don't have any hot peppers available, you can add cayenne powder or tincture to your juice.
An added benefit of consuming hot peppers in your vegetable juice during the warmer months is that it boosts circulation so much that it actually produces a cooling effect on the body. This is one reason hot peppers are consumed in tropical climates, like Thailand, famous for its "Thai Red" peppers.
There is a tiny chile pepper native to my area in southern Arizona known as the "chiltepin" (we say "chill-tuh-peen") pepper. They are round or oblong peppers usually found in abundance on low lying bushes. I have found them growing in the desert, near mountain ravines, and even in the Rose Garden at Reid Park in Tucson. They start out green, then turn purple, and finally a bright red when ripe.
Chiltepin peppers are among the hottest I have ever eaten, but I believe they belong to a family of bird peppers (such as African bird peppers) that grow around the world. If you can find some of these peppers or any hot peppers with a similar level of heat (i.e., 50,000–100,000 Scoville heat units, which is the standard scale for measuring total capsaicin content), then you are in for a treat in your vegetable juice.
As I mentioned earlier, once you are ready for it, the habanero is a great pepper to juice. Just remember not to share your vegetable juice with anyone who isn't ready for intense heat (100,000–350,000 Scoville units)!
Chile peppers are naturally high in vitamin C, so this gives you an added nutritional boost, and helps preserve the freshness of the juice.
SUPERFOODS IN VEGETABLE JUICE
I include my favorite superfood (Rejuvenate!™) in the recipe because I am a huge believer in the power of superfoods to supercharge vegetable juices to make them more powerfully nutritious.
Just as hot peppers add therapeutic value to juice by boosting circulation, superfoods like Rejuvenate! bring powerfully nutritious ingredients like chlorella and spirulina. Chlorella provides amazing nutrition (protein, chlorophyll, essential fats), but also powerful cleansing power due to the special properties of its cell wall that allow it to detoxify everything from heavy metals to toxic chemicals.
Rejuvenate! is designed by Dr. Hank Liers of Health Products Distributors, Inc. to be a full spectrum superfood offering the highest levels of nutrition, detoxification, and support for rejuvenation, regeneration, and healing.
In fact, Rejuvenate! is a unique high-RNA formula, which provides therapeutic levels of dietary nucleic acids (RNA, DNA, nucleotides, nucleosides) that are proven to speed healing, boost cellular energy (as ATP), improve tissue oxygenation, increase functional strength and recovery, and improve personal appearance (exerting anti-aging effects). Rejuvenate! (original greens) just happens to be my personal favorite, and it tastes especially good with "The Doctor."
Rejuvenate! superfood is actually part of a product line of five Rejuvenate! superfoods, each with it's own flavor and nutrient profile, but all provide the benefits offered by high levels of dietary RNA. All of these formulas taste good in juice. For example, when I juice just carrots, or apples and other fruits, I prefer to add Rejuvenate Berries & Herbs.
So, try to include your favorite superfoods right into your juice. If you don't want to put them into your juice, make sure to consume superfoods at other times of the day.
We at HPDI include juicing into our Master Rejuvenation Program for optimal health because it works to create health. And juicing works especially well when combined with superfoods, like Rejuvenate!. I highly encourage you to try Rejuvenate! superfoods because they are the only formulas that intentionally provide therapeutic levels of dietary nucleic acids, which are one of the nutrients most proven to support health and healing.
JUST JUICE IT!
"The Doctor" likely will remain one of my favorite vegetable juices. It's easy to make, tastes great, offers distinct health benefits, and stores well in the refrigerator (at least compared to most other juices; I usually add a PRO-C capsule into the juice if storing it overnight).
I can fairly guarantee that if you add more vegetable juices into your diet, you will become healthier, more alkaline, better hydrated, and probably both live longer and experience a higher quality of life. That's the way I see it. So, try this juice recipe today. Just maybe "The Doctor" can help you avoid visiting your doctor. And in any case, it tastes great!
ADDITIONAL RESOURCES
The Summer Lemonade Diet: Refreshes, Hydrates & Cleanses Kidneys – by Fred Liers, PhD
Liver Cleanse with Juices & Herbs – by Fred Liers, PhD
REJUVENATION PROGRAM PART FOUR
(role of dietary nucleic acids for health and healing; foundational supplements)