Every summer I do at least a couple weeks of the "Lemonade Diet." It is an excellent cleanse for the kidneys and a welcome break for the digestive system. Plus, it tastes great and really satisfies thirst on hot summer days.
Summer is an ideal time for the Lemonade Diet because of increased needs for hydration. Also, by late summer I personally have finished my spring and summer juice fasts, including a long liver flush. So, I'm ready for kidney cleansing.
The Lemonade Diet is essentially consuming fresh lemon (or lime) juice in pure water with a splash of maple syrup (optional) and maybe a pinch of cayenne. Simply squeeze the juice from two fresh organic lemons (or limes). Mix the lemon juice with one tablespoon (or more) of organic grade-B maple syrup, and add chile pepper powder (optional).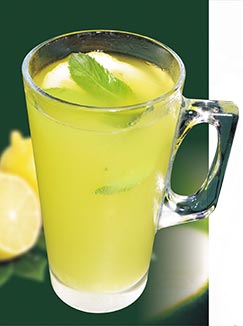 LEMONADE DIET INGREDIENTS
2 medium lemons (or limes) (juiced)
Grade B Maple syrup (1–2 Tbsp) (optional)
Cayenne pepper (optional)
Pure filtered water (32 oz)
DIRECTIONS
Place all ingredients in a large glass or mason jar. Stir or shake well until mixed. Alternatively, you can place all ingredients in a blender and mix. This works better if you're using fresh chile peppers that require blending.
Adjust the recipe and ingredient ratios according to your taste. For example, I prefer using less maple syrup, but using up to one tablespoon per drink will encourage some weight loss. Whenever you get hungry, just drink more lemonade. There is no limit, but lemonade amazingly satisfies hunger.
LEMONADE DIET IS GREAT FOR KIDNEY CLEANSING
The Lemonade Diet can be part of an overall kidney cleansing program when combined with kidney herbs (teas and tinctures), and especially with a vegetable juice flush or raw foods diet. If you're going for a full kidney cleanse, then look for kidney teas, tinctures, and herbal formulas containing herbs like juniper berries, corn silk, uva ursi root, and parsley root. These herbs are powerful kidney cleansers.
If I do a kidney cleanse (whether for one day or one week), I usually drink two cups of hot herbal tea for kidneys 15 minutes after I drink my first lemonade drink for the day. I usually add two to four dropperfulls of a kidney tincture to this tea, or take the tincture separately in a little water. I will drink two to four more cups of kidney tea during the day along with additional tincture (two droppers per cup).
If you plan to drink vegetable juice while on the Lemonade Diet (i.e., do a juice flush or a full kidney cleanse), then start your morning with a lemonade drink and 15 minutes later with kidney tea, and hold off on drinking juice (with or without superfoods) for at least 20 minutes. That is, drink juice or superfoods a little later in the morning and at least 15–20 minutes away from any additional kidney teas or tinctures. This gives the body a better opportunity to cleanse the kidneys.
SOME LIKE IT HOT…AS IN CHILE PEPPER HOT!
For lovers of hot chile peppers, you can add cayenne powder of any heat level (start 30,000 Scoville heat units (SHU) and gradually work your way up to higher heat levels). I typically use a habanero-pepper–based cayenne blend that rates at 250,000 SHU. As I mentioned, you can use fresh hot peppers by placing all ingredients into a blender.
Hot pepper is ideal for use on hot summer days because it boosts your circulation, thereby cooling you down. This is one reason hot peppers are consumed widely in tropical and equatorial regions of the world. Peppers are native to the Americas, but it did not take long for their use and cultivation to spread.
I also love to use hot chile peppers in vegetable juices. One of my favorite vegetable juices is "The Doctor" which can include the hottest peppers your palette can handle.
ADD SUPERFOODS TO LEMONADE FOR SUPER-NUTRITION
It's not difficult to thrive on the Lemonade Diet for two or even three weeks. I frequently add superfoods like Rejuvenate!™ and chlorella into my lemonade. These "green" drinks leave me feeling a bit more nourished and provide all the benefits associated with therapeutic levels of RNA and chlorophyll. For example, I'm warmer, more energized, and I can go longer before my next glass of lemonade. (In fact, one of my favorite versions of the lemonade diet is the "Rejuvenate! Lemonade" diet.)
With the addition of Rejuvenate!™ (especially the original greens version) and other superfoods, I can probably go one month or longer on the Lemonade Diet. But this year after I finish a few weeks on the diet, I think I will reserve one day each week to consume lemonade with superfoods (i.e., have a once-per-week lemonade day). This practice will bring me into the fall season with super cleansed kidneys. Then, I'll be ready to start my fall liver flush!
ADDITIONAL RESOURCES
REJUVENATE!™ SUPERFOODS PRODUCT COMPARISON
Rejuvenate! Lemonade – Delicious & Satisfying – by Fred Liers, PhD
Fred's Favorite Juice Recipe: 'The Doctor" – by Fred Liers, PhD
Liver Cleanse with Juices & Herbs – by Fred Liers, PhD
Burroughs, Stanley. The Master Cleanser. Revised ed. Burroughs Books, 2003.

Schulze, Dr. Richard. There are No Incurable Diseases. Natural Healing Publications, 1999.