Today I talk about my REJUVENATE!™ BERRIES & HERBS high-RNA superfood. I designed it to be a super-delicious, intensely berry flavored superfood with no greens. I put in real organic berries—BLUEBERRY, STRAWBERRY, RASPBERRY, and CRANBERRY—so it bursts with true berry flavors! I recently updated the formula, so it is is more delicious and nutritious than ever.
REJUVENATE! BERRIES & HERBS – A COMPLETE SUPERFOOD
Rejuvenate! Berries & Herbs is a delicious high-RNA (390 mg), high-protein (14.6 g) (organic pea and organic rice), high-antioxidant (ORAC value of 14,000+), high fiber (13 g) superfood with a creamy smoothness and rich berry flavor that tastes beyond great! It also boosts health with a complete multivitamin-multimineral sub-formula and important cell-protective herbs (herbal complex) that includes ginger, dandelion, burdock, turmeric, green tea extract, astragalus, and many other health-building herbs.
How to use Rejuvenate! Berries & Herbs? Just mix in water, juices, nut milks, or smoothies to create a drink with superb health benefits. Or use it creatively in foods, such as nut butters, salads, fruits, sauce/dressings, or desserts. It tastes so good, some people like to eat it by itself—or mixed in a little purified water.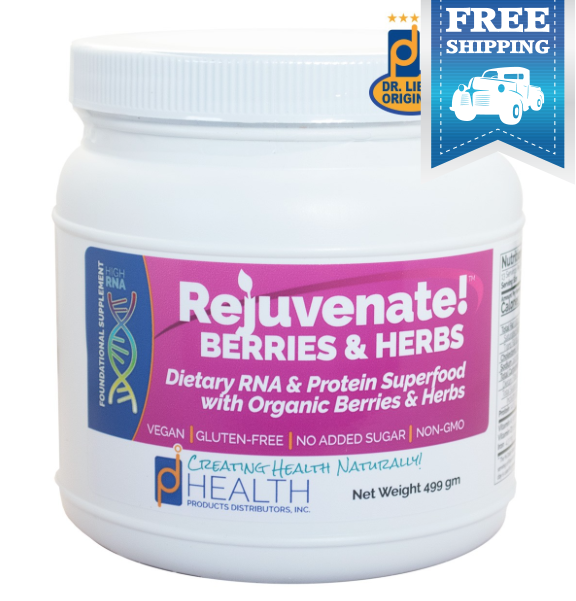 HEALTHY AND HIGH-RNA BY DESIGN
Rejuvenate! Berries & Herbs is among HPDI's premier high-RNA superfoods. That is, Rejuvenate! Berries & Herbs is one of three Rejuvenate! superfoods, which are the world's first—and only—dedicated high-RNA superfoods. High-RNA nutrition means high in dietary nucleic acids, which Dr. Benjamin S. Frank considers to be essential nutrients, like vitamins and minerals (Dietary Nucleic Acid Nutrition & Therapy). Dr. Frank's studies demonstrate many benefits of nucleic acids, including: greater energy, endurance, functional strength, easier breathing (anti-anoxic effect), as well as cardiovascular benefits and cosmetic benefits (smoother skin and a more youthful appearance).
Highlights of Rejuvenate! Berries & Herbs:
• Delicious Berry Flavor Bursts with Real Organic Berries!
• Powerful Organic and Wildcrafted Cell-Protective Herbs
• High ORAC Value (~14,270 units)
• 390 mg Dietary Nucleic Acids (RNA/DNA) from Vegetarian Sources
• Multiple Prebiotics Supporting your Microbiome
• Gluten Free, Vegan/Vegetarian, No Artificial Ingredients
• Mixes Well with other Rejuvenate!™ Superfoods
My updated formula (as of 12/2018) features, per serving:
– 2.6 g more protein (14.6 g total)
– Very little sugar (1.2 g total)
– 7.0 g more fiber (13 g total)
– 100 mg of organic BiAloe® aloe vera gel powder with over 18% acemannan
– 700 mcg of folate as 5-MTHF (natural, coenzyme folate)
– A smooth & delicious taste (even better than before!)
Given all the upgrades I recently made to the formula, I certainly hope you will give it a try. I'm so happy with it, and I use it daily. Berries & Herbs hardly feels (or tastes!) like a nutritional supplement. But believe me, there are few superfoods anywhere that provide as much nutrition—or nutrient density!
HIGHEST QUALITY INGREDIENTS – INCLUDING ORGANIC AND WILDCRAFTED
To give you a better idea of the high-quality ingredients I put into Rejuvenate! Berries & Herbs, check out this complete list of ingredients:
INGREDIENTS: REJUVENATE! BERRIES & HERBS contains: pea protein*, rice protein*, flax seed powder*, rice bran solubles, d-ribose, cranberry powder*, blueberry powder*, raspberry powder*, strawberry powder*, nutritional yeast, sunflower lecithin, inulin (from chicory root), broccoli sprouts powder*, mannitol, xylitol* (from hardwood), magnesium malate, VitaBerry® Plus† (from freeze dried wild blueberry, cranberry, raspberry, strawberry, prune, cherry, wild bilberry, whole grape powders, resveratrol, and quercetin), l-lysine hydrochloride, mixed berry flavoring* (on gum acacia), vanilla flavoring* (on gum acacia), RNA (from yeast), magnesium ascorbate, chlorella growth factor (CGF), burdock root powder*, astragalus powder*, turmeric root powder*, ginger root powder*, digestive multienzyme complex, choline bitartrate, malic acid, dulse*, kelp*, aloe vera* (BiAloe® concentrate), n-acetyl-l-cysteine, rutin, milk thistle extract, green tea extract, licorice root powder*, dandelion root powder*, rhodolia extract, inositol, biotin, stevia leaf extract, alpha lipoic acid, d-alpha tocopheryl succinate, niacinamide (Vit. B3), whole grape extract, high-gamma mixed tocopherols, phylloquinone (Vit. K1), immune assist mushroom extract, pantothenic acid, resveratrol, methylcobalamin (Vit. B12), pyridoxal-5'-phospate (Vit. B6), thiamin diphosphate (Vit. B1), riboflavin-5'-phosphate (Vit. B2), l-selenomethionone, cholecalciferol (Vit. D3), and calcium L-5-methyltetrahydrofolate.
*Organic ingredient
†VitaBerry Plus® is a registered trademark of VDF Futureceuticals, Inc.
Rejuvenate! Berries & Herbs is available from Health Products Distributors, Inc.:
Try Rejuvenate! Berries & Herbs  (organic and wildcrafted berries & herbs)
You may also like: Rejuvenate! PLUS (light, sweet green superfood)
There are three Rejuvenate! superfoods. Which one is best for you? See our Rejuvenate!™ comparison page.
BLOG ARTICLE:
TASTY SMOOTHIE WITH REJUVENATE! BERRIES & HERBS by Fred Liers