Today I make a tasty smoothie with the new, improved REJUVENATE!™ BERRIES & HERBS superfood. In fact, Rejuvenate! Berries & Herbs is likely the most delicious among HPDI's Rejuvenate! superfoods, as it contains for types of real organic berries: Blueberries, Strawberries, Raspberries, and Cranberries. This uber-berry superfood was born for smoothies.
Rejuvenate! Berries & Herbs is a uniquely healthy superfood that not only tastes amazingly good, but its high berry content gives it an ultra-high antioxidant value (ORAC) of 14,270 units per serving—an exceedingly high ORAC value compared to typical "superfood" formulas.
Rejuvenate! Berries & Herbs provides 14.6 gm of organic protein (including organic pea and organic rice). It includes a potent cell-protective herbal complex (including green tea extract, ginger, turmeric, astragalus, burdock, dandelion, and rhodiola). In addition, it contains a built-in multivitamin sub-formula including coenzyme vitamins and other highly assimilable forms of important micronutrients.
I especially love Rejuvenate! Berries & Herbs because my father Dr. Hank Liers formulated it to provide the most dietary nucleic acids per serving—390 mg (dietary RNA/DNA)—the most per serving in any Rejuvenate! superfood. Sources of dietary nucleic acids in Rejuvenate! Berries & Herbs include nutritional yeast, yeast extracts, and CGF (chlorella growth factor).
Dietary nucleic acids are proven to provide significant benefits for health. Studies by pioneering nucleic acid researcher Benjamin S. Frank, MD, PhD indicate effects such as greater endurance, easier breathing (anti-anoxic effect), increased energy (ATP production), improved functional strength, warmer body temperature (e.g., cold resistance), and other effects. Dr. Frank asserts that dietary nucleic acids are essential nutrients, not unlike vitamins and minerals (Dietary Nucleic Acid Nutrition & Therapy).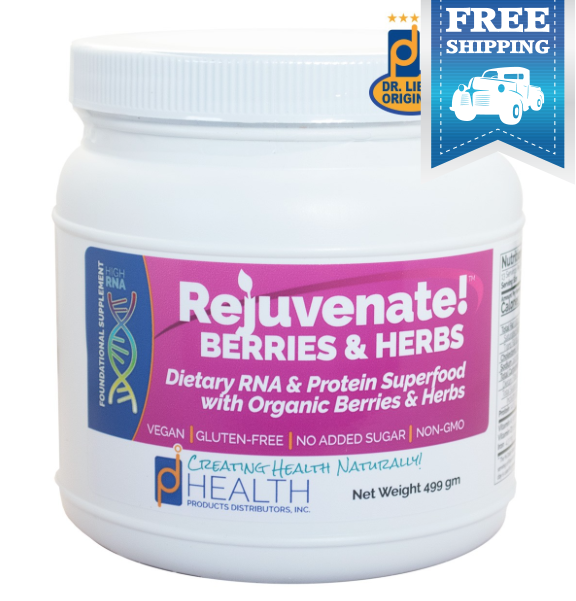 Considering all the benefits conferred by dietary nucleic acids, you really cannot go wrong by consuming more of them daily. And Rejuvenate! Berries & Herbs helps you do that by providing nearly 400 mg of dietary RNA/DNA per serving. That is a therapeutic dose which means you stand to gain all the benefits they confer. Depending on who you are and your health status, that could mean a lot in terms of helping you be healthier.
In sum, Rejuvenate! Berries & Herbs uniquely offers: 1) High RNA (dietary nucleic acids), 2) High Antioxidant Levels, 3) Herbal Sub-Formula, 4) High Protein, 5) Built-in Multivitamin, and 6) SUPER TASTE—that is super delicious in your superfood smoothies.
You just cannot get all these benefits in ANY other superfood, including other Rejuvenate! superfoods, each of which is formulated with a specific purpose. For example, Rejuvenate! PLUS is designed to provide significant levels of greens (think chlorella and spirulina), but lacks berries. Within its berry bailiwick, Rejuvenate! Berries & Herbs truly stands alone as one-of-a-kind.
REJUVENATE! BERRIES & HERBS highlights:
• Delicious Berry Flavor Bursts with Real Organic Berries (blueberries, strawberries, raspberries, cranberries)!
• Powerful Organic and Wildcrafted Cell-Protective Herbs
• High Antioxidant (ORAC) Value of 14,270 units per serving!
• Contains Multiple Prebiotics Supporting Your Microbiome
• Suitable for Vegetarians and Vegans & Gluten Free
• Mixes Well with other Rejuvenate!™ superfoods (like Rejuvenate! PLUS and Rejuvenate! Original Greens) and smoothie ingredients.
New, improved REJUVENATE! Berries & Herbs features (per serving):
• 14.6 g protein
• Very little sugar (1.2 g total)
• 7.0 g more fiber (13 g total)
• 100 mg of organic BiAloe® aloe vera gel powder with over 18% acemannan
• 700 mcg of folate as 5-MTHF
• Smooth texture & delicious taste!
There you have it. If you're anything like me—and you love the taste of real, organic berries—consider Rejuvenate! Berries & Herbs to be your greatest ally when it comes it to tasty and healthy superfood nutrition. Make yourself a Berries & Herbs smoothie, and start creating health naturally today! ~
REJUVENATE! BERRIES & HERBS DETAILS
INGREDIENTS: REJUVENATE! BERRIES & HERBS contains: pea protein*, rice protein*, flax seed powder*, rice bran solubles, d-ribose, cranberry powder*, blueberry powder*, raspberry powder*, strawberry powder*, nutritional yeast, sunflower lecithin, inulin (from chicory root), broccoli sprouts powder*, mannitol, xylitol* (from hardwood), magnesium malate, VitaBerry® Plus† (from freeze dried wild blueberry, cranberry, raspberry, strawberry, prune, cherry, wild bilberry, whole grape powders, resveratrol, and quercetin), l-lysine hydrochloride, mixed berry flavoring* (on gum acacia), vanilla flavoring* (on gum acacia), RNA (from yeast), magnesium ascorbate, chlorella growth factor (CGF), burdock root powder*, astragalus powder*, turmeric root powder*, ginger root powder*, digestive multienzyme complex, choline bitartrate, malic acid, dulse*, kelp*, aloe vera* (BiAloe® concentrate), n-acetyl-l-cysteine, rutin, milk thistle extract, green tea extract, licorice root powder*, dandelion root powder*, rhodolia extract, inositol, biotin, stevia leaf extract, alpha lipoic acid, d-alpha tocopheryl succinate, niacinamide (Vit. B3), whole grape extract, high-gamma mixed tocopherols, phylloquinone (Vit. K1), immune assist mushroom extract, pantothenic acid, resveratrol, methylcobalamin (Vit. B12), pyridoxal-5'-phospate (Vit. B6), thiamin diphosphate (Vit. B1), riboflavin-5'-phosphate (Vit. B2), l-selenomethionone, cholecalciferol (Vit. D3), and calcium L-5-methyltetrahydrofolate.
*Organic ingredient  †VitaBerry Plus® is a registered trademark of VDF Futureceuticals, Inc.
RESOURCES:
Discover Rejuvenate! Berries & Herbs  (Product Page)
You may also like: Rejuvenate! PLUS (Product Page)
Did you know there are 3 different Rejuvenate! superfoods? Which one is best for you? See our Rejuvenate! superfood comparison page.
BLOG ARTICLES: