One of the best ways to consume superfoods when you're busy is to put them into a homemade superfood bar. I usually make a superfood smoothie in the morning. But during the day, especially if I'm busy, it helps to have prepared some superfood bars in advance. Then I can take them to go, or give to my son for a snack. They are especially good to have for day trips or when traveling.
The great thing about superfood bars is how easy they are to make. My favorite superfood formulas are Rejuvenate superfoods. I often use Rejuvenate! PLUS for bars, but Berries & Herbs works well if you don't have any berries. Even the original (greens) tastes great.
Below is my basic recipe for a Rejuvenate superfood bar. I change it up a bit every time for variety, so feel free to adjust the recipe to suit your tastes.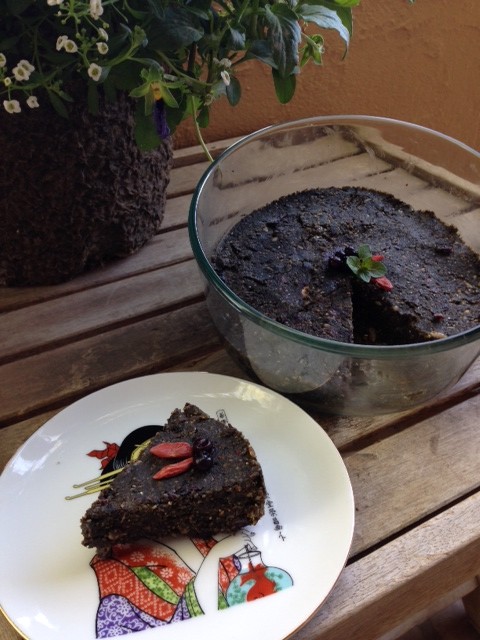 REJUVENATE SUPERFOOD BAR RECIPE
Here are the ingredients you'll need, listed in the order placed in food processor. For best results (including taste!) all ingredients should be organic or wildcrafted.
• 2 Cups Almonds
• 3 Tbsp Chia Seeds
• 2–4 Scoops any Rejuvenate superfood — PLUS, Berries & Herbs, or original (I prefer PLUS for this recipe unless I don't have berries, then will use Berries & Herbs)
• 1–2 Tbsp raw unprocessed Cocoa Powder
• 1 Cup Walnuts (or Cashews)
• 1/4 Cup Sunflower Seeds
• Handful of Goji Berries (if the berries are really dry then I place them in a small amount of water, just to cover and let them soak until softer – save the water to add if mixture is too dry)
• 5–8 Dried Apricots or 1/4 cup (handful) Raisins, Blueberries, or Raspberries (fresh or frozen) to your suit preference.
• 2–3 Tbsp Cocoa Butter (melted), or Coconut Oil. Cocoa butter will make the bar more firm and has a higher melting point than coconut oil. If you plan to keep refrigerated and not travel with it then coconut oil will work just fine. Personally, I prefer the cocoa butter.
MAKE REJUVENATE SUPERFOOD BARS
Begin by grinding almonds until fine. Add the rest of the ingredients one at a time, allowing the each ingredient to mix thoroughly. The ingredients can be varied to suit your taste. For example, you can leave out cocoa powder or sunflower seeds, or you could add coconut.
The ingredients that I chose were based on nutritional content as well as flavor. By the time you get to the berries the consistency should be fairly thick, but you will still be able to mix the berries. I then drizzle the oil over the top and mix it a bit as I put it in a glass container.
If the mixture is too dry, then add the water from the goji berries or any other dried fruit you soaked to obtain the right consistency.
Spread the mixture to the desired thickness (I make it about 1.5 inches thick) and place in refrigerator. Another option is to make individual servings and wrap in wax paper. If you were going on a hike in warm weather you could freeze one or two bars to take with. Enjoy!
A FEW THOUGHTS ON NUTRITIONAL VALUE
Rejuvenate superfood bars are consumed a lot in our family. They can be eaten any time of day and they're always delicious.
Yet, Rejuvenate superfood bars are highly nutritious. Rejuvenate PLUS and Berries & Herbs both provide a built-in multivitamin that includes coenzyme-form vitamins. There is plenty of protein in the bar, too.
While the bar contains natural sugars from fruit, it doesn't taste overly sweet. Glycemic effects are mitigated by high nutrient density, including vitamins, minerals, protein, and fiber.
In fact, if you know much about the unique benefits of Rejuvenate superfoods, then you may know the dietary nucleic acids (food-source RNA and DNA) they provide are great for supporting optimal health and exercise performance.
I recently gave my bar recipe to professional cyclist Irena Ossola who now makes it for herself as part of her nutrition program. Irena loves these bars. Along with her regular use of Rejuvenate superfoods in smoothies and power drinks, the bar helps her improve cycling performance and speeds recovery.
If you're looking for a highly nutritious and delicious food bar you can consume with confidence, then try making Rejuvenate superfood bars.
These bars not only provide superior nutrition for you and your family, but can also replace a smoothie when you're pinched for time. Or make great snacks in-between meals to sustain energy (for adults and kids). Make them ahead of time, and you'll be set for the day!
RESOURCES