Ultimate Protector contains broccoli and broccoli sprouts powder, as well as components from 29 different fruits, vegetables, and herbs. Each of these ingredients contain substances that may be considered to be polyphenols, antioxidants, and Nrf2 activators. In this article, I will explore the ingredient "broccoli and broccoli sprouts powder," which is a component of VitaVeggie from Futureceuticals.
VitaVeggie® is an all-vegetable, high-antioxidant (ORAC) capacity blend rich in phenolics from vegetable concentrates, as well as fully intact vegetable phytochemicals from freeze-dried vegetable powders. VitaVeggie combines the nutrients and antioxidants of broccoli, broccoli sprouts, tomatoes, spinach, kale, carrots, brussels sprouts, and onion.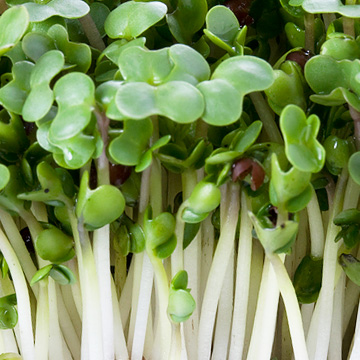 This robust vegetable powder is also rich in glucosinolates and sulphoraphane, compounds commonly found in cruciferious vegetables that research suggests contribute to healthy internal antioxidant status by stimulating the body's endogenous (internal) antioxidant system. VitaVeggie is standardized to minimum levels of 2000 ppm glucosinolates and 1000 ppm sulphoraphane.
SULFORAPHANE
In 1992 a team of Johns Hopkins University scientists isolated a cancer-fighting phytochemical in broccoli called glucoraphanin, which is the glucosinolate precursor of sulforaphane.
When chewed, broccoli releases glucoraphanin and myrosinase, an enzyme found in another part of the plant cell, which work together to produce sulforaphane, which in turn activates a transcription factor (Nrf2) in the cell. After activation, Nrf2 then translocates to the nucleus of the cell, where it aligns itself with the antioxidant response element (ARE) in the promoter region of target genes.
The target genes are associated with processes which assist in regulating cellular defenses. Such cytoprotective genes include that for glutathione. Around 200 genes have been well-characterized, and as many as 1700 may be related to this aspect of cellular defense. The 1992 study was followed by the discovery in 1997 that glucoraphanin is found in higher concentrations in three- to four-day-old broccoli sprouts, at least 20 times the concentration of full-grown broccoli.
STUDIES DEMONSTRATING THE BENEFITS OF BROCCOLI AND BROCCOLI SPROUTS
Implications of Cancer Stem Cell Theory for Cancer Chemoprevention
by Natural Dietary Compounds
The emergence of cancer stem cell theory has profound implications for cancer chemoprevention and therapy. Cancer stem cells give rise to the tumor bulk through continuous self-renewal and differentiation. Understanding the mechanisms that regulate self-renewal is of greatest importance for discovery of anti-cancer drugs targeting cancer stem cells. Naturally occurring dietary compounds have received increasing attention in cancer chemoprevention. The anti-cancer effects of many dietary components have been reported for both in vitro and in vivo studies. Recently, a number of studies have found that several dietary compounds can directly or indirectly affect cancer stem cell self-renewal pathways. Herein we review the current knowledge of most common natural dietary compounds for their impact on self-renewal pathways and potential effect against cancer stem cells. Three pathways (Wnt/β-catenin, Hedgehog, and Notch) are summarized for their functions in self-renewal of cancer stem cells. The dietary compounds, including curcumin, sulforaphane, soy isoflavone, epigallocatechin-3-gallate, resveratrol, lycopene, piperine, and vitamin D3, are discussed for their direct or indirect effect on these self-renewal pathways. Curcumin and piperine have been demonstrated to target breast cancer stem cells. Sulforaphane has been reported to inhibit pancreatic tumor initiating cells and breast cancer stem cells. These studies provide a basis for preclinical and clinical evaluation of dietary compounds for chemoprevention of cancer stem cells. This may enable us to discover more preventive strategies for cancer management by reducing cancer resistance and recurrence and improving patient survival.
Targeting cancer stem cells with sulforaphane, a dietary component from broccoli and broccoli sprouts.
Abstract
Many studies have supported the protective effects of broccoli and broccoli sprouts against cancer. The chemopreventive properties of sulforaphane, which is derived from the principal glucosinolate of broccoli and broccoli sprouts, have been extensively studied. Recent research into the effects of sulforaphane on cancer stem cells (CSCs) has drawn lots of interest. CSCs are suggested to be responsible for initiating and maintaining cancer, and to contribute to recurrence and drug resistance. A number of studies have indicated that sulforaphane may target CSCs in different types of cancer through modulation of NF-κB, SHH, epithelial-mesenchymal transition and Wnt/β-catenin pathways. Combination therapy with sulforaphane and chemotherapy in preclinical settings has shown promising results. In this article, we focus on the effects of sulforaphane on CSCs and self-renewal pathways, as well as giving a brief review of recent human studies using broccoli sprout preparations.
Sulforaphane, a dietary component of broccoli/broccoli sprouts,
inhibits breast cancer stem cells.
Li Y
1, 
Zhang T
, 
Korkaya H
, 
Liu S
, 
Lee HF
, 
Newman B
, 
Yu Y
, 
Clouthier SG
, 
Schwartz SJ
, 
Wicha MS
, 
Sun D
.
PURPOSE:
The existence of cancer stem cells (CSCs) in breast cancer has profound implications for cancer prevention. In this study, we evaluated sulforaphane, a natural compound derived from broccoli/broccoli sprouts, for its efficacy to inhibit breast CSCs and its potential mechanism.
EXPERIMENTAL DESIGN:
Aldefluor assay and mammosphere formation assay were used to evaluate the effect of sulforaphane on breast CSCs in vitro. A nonobese diabetic/severe combined immunodeficient xenograft model was used to determine whether sulforaphane could target breast CSCs in vivo, as assessed by Aldefluor assay, and tumor growth upon cell reimplantation in secondary mice. The potential mechanism was investigated using Western blotting analysis and beta-catenin reporter assay.
RESULTS:
Sulforaphane (1-5 micromol/L) decreased aldehyde dehydrogenase-positive cell population by 65% to 80% in human breast cancer cells (P < 0.01) and reduced the size and number of primary mammospheres by 8- to 125-fold and 45% to 75% (P < 0.01), respectively. Daily injection with 50 mg/kg sulforaphane for 2 weeks reduced aldehyde dehydrogenase-positive cells by >50% in nonobese diabetic/severe combined immunodeficient xenograft tumors (P = 0.003). Sulforaphane eliminated breast CSCs in vivo, thereby abrogating tumor growth after the reimplantation of primary tumor cells into the secondary mice (P < 0.01). Western blotting analysis and beta-catenin reporter assay showed that sulforaphane downregulated the Wnt/beta-catenin self-renewal pathway.
CONCLUSIONS:
Sulforaphane inhibits breast CSCs and downregulates the Wnt/beta-catenin self-renewal pathway. These findings support the use of sulforaphane for the chemoprevention of breast cancer stem cells and warrant further clinical evaluation.
Dietary sulforaphane-rich broccoli sprouts reduce colonization and attenuate gastritis in Helicobacter pylori-infected mice and humans.
Abstract
The isothiocyanate sulforaphane [SF; 1-isothiocyanato-4(R)-methylsulfinylbutane] is abundant in broccoli sprouts in the form of its glucosinolate precursor (glucoraphanin). SF is powerfully bactericidal against Helicobacter pylori infections, which are strongly associated with the worldwide pandemic of gastric cancer. Oral treatment with SF-rich broccoli sprouts of C57BL/6 female mice infected with H. pylori Sydney strain 1 and maintained on a high-salt (7.5% NaCl) diet reduced gastric bacterial colonization, attenuated mucosal expression of tumor necrosis factor-alpha and interleukin-1beta, mitigated corpus inflammation, and prevented expression of high salt-induced gastric corpus atrophy. This therapeutic effect was not observed in mice in which the nrf2 gene was deleted, strongly implicating the important role of Nrf2-dependent antioxidant and anti-inflammatory proteins in SF-dependent protection. Forty-eight H. pylori-infected patients were randomly assigned to feeding of broccoli sprouts (70 g/d; containing 420 micromol of SF precursor) for 8 weeks or to consumption of an equal weight of alfalfa sprouts (not containing SF) as placebo. Intervention with broccoli sprouts, but not with placebo, decreased the levels of urease measured by the urea breath test and H. pylori stool antigen (both biomarkers of H. pylori colonization) and serum pepsinogens I and II (biomarkers of gastric inflammation). Values recovered to their original levels 2 months after treatment was discontinued. Daily intake of sulforaphane-rich broccoli sprouts for 2 months reduces H. pylori colonization in mice and improves the sequelae of infection in infected mice and in humans. This treatment seems to enhance chemoprotection of the gastric mucosa against H. pylori-induced oxidative stress.
Sulforaphane absorption and excretion following ingestion of a semi-purified broccoli powder rich in glucoraphanin and broccoli sprouts in healthy men.
Abstract
Sulforaphane (SF) is a chemopreventive isothiocyanate (ITC) derived from the myrosinase-catalyzed hydrolysis of glucoraphanin, a thioglucoside present in broccoli. Broccoli supplements often contain glucoraphanin but lack myrosinase, putting in question their ability to provide dietary SF. This study compared the relative absorption of SF from air-dried broccoli sprouts rich in myrosinase and a glucoraphanin-rich broccoli powder lacking myrosinase, individually and in combination. Subjects (n=4) each consumed 4 meals consisting of dry cereal and yogurt with 2 g sprouts, 2 g powder, both, or neither. Blood and urine were analyzed for SF metabolites. The 24 h urinary SF recovery was 74%, 49%, and 19% of the dose ingested from broccoli sprouts, combination, and broccoli powder meals, respectively. Urinary and plasma ITC appearance was delayed from the broccoli powder compared to the sprouts and combination. A liver function panel indicated no toxicity from any treatment at 24 h. These data indicate a delayed appearance in plasma and urine of SF from the broccoli powder relative to SF from myrosinase-rich sprouts. Combining broccoli sprouts with the broccoli powder enhanced SF absorption from broccoli powder, offering the potential for development of foods that modify the health impact of broccoli products.
Bioavailability of sulforaphane from two broccoli sprout beverages:
Results of a short term, cross-over clinical trial in Qidong, China
One of several challenges in design of clinical chemoprevention trials is the selection of the dose, formulation and dose schedule of the intervention agent. Therefore, a cross-over clinical trial was undertaken to compare the bioavailability and tolerability of sulforaphane from two of broccoli sprout-derived beverages: one glucoraphanin-rich (GRR) and the other sulforaphane-rich (SFR). Sulforaphane was generated from glucoraphanin contained in GRR by gut microflora or formed by treatment of GRR with myrosinase from daikon (Raphanus sativus) sprouts to provide SFR. Fifty healthy, eligible participants were requested to refrain from crucifer consumption and randomized into two treatment arms. The study design was as follows: 5-day run-in period, 7-day administration of beverages, 5-day washout period, and 7-day administration of the opposite intervention. Isotope dilution mass spectrometry was used to measure levels of glucoraphanin, sulforaphane and sulforaphane thiol conjugates in urine samples collected daily throughout the study. Bioavailability, as measured by urinary excretion of sulforaphane and its metabolites (in approximately 12 hour collections after dosing), was substantially greater with the SFR (mean = 70%) than with GRR (mean = 5%) beverages. Interindividual variability in excretion was considerably lower with SFR than GRR beverage. Elimination rates were considerably slower with GRR allowing for achievement of steady state dosing as opposed to bolus dosing with SFR. Optimal dosing formulations in future studies should consider blends of sulforaphane and glucoraphanin as SFR and GRR mixtures to achieve peak concentrations for activation of some targets and prolonged inhibition of others implicated in the protective actions of sulforaphane.
SUMMARY
Broccoli–and especially broccoli sprouts with its high content of sulforaphane–contain important polyphenols, antioxidants, and Nrf2 activators that help make Ultimate Protector an outstanding nutritional supplement. Broccoli and broccoli sprouts have been used extensively in nutritional healing protocols for almost 25 years now.
Continued research shows a growing list of health benefits for these nutritional substances, especially relating to Nrf2 activity and ability to provide significant chemoprevention. They add an important vegetable profile to the ingredient mix in Ultimate Protector™.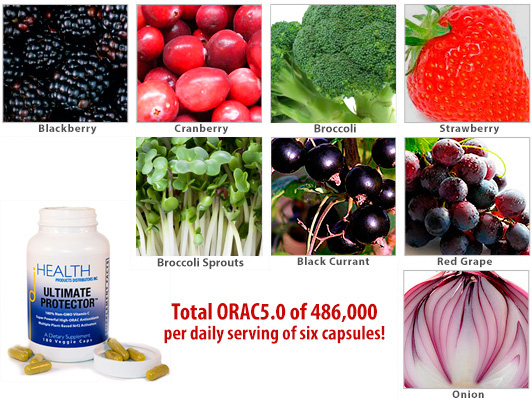 ADDITIONAL RESOURCES
HPDI BLOG ARTICLES
OTHER RESOURCES