Last month I wrote an article about dietary nucleic acids for athletic performance that focused on HPDI's Rejuvenate! superfoods. I must admit, I learned a thing or two about the very superfoods I've helped develop.
For example, I reviewed the studies done in the 1960s and 1970s by Dr. Benjamin S. Frank both using human subjects and laboratory animals. Indeed, Rejuvenate! superfoods are formulated to provide therapeutic levels of dietary RNA for optimal health, healing, recovery, and overall performance, including athletic performance.
How notable then that March was the month we took on a sponsorship of professional cyclist Irena Ossola. She approached us after having tried our Rejuvenate!™ superfoods (specifically Rejuvenate!™ PLUS and Berries & Herbs), which she initially "borrowed" from a friend. After having tried it a few times, she noticed a definite improvement in her performance and her recovery. Irena then approached us, and we have taken her on as as a sponsored athlete.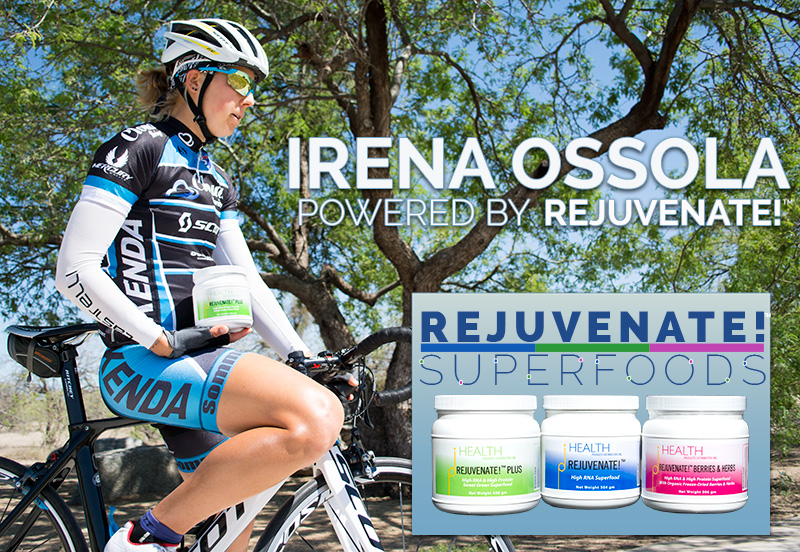 Truthfully, we are just as excited to have Irena use and test our superfoods in the world of pro cycling, as she no doubt is to have Rejuvenate™ superfoods (and other foundational supplements) as part of her nutritional program. And of course, to gain the benefits they confer for athletic performance.
In fact, Irena is already gaining real benefits after just a short time. She says,
"I am a full supporter of the Health Products Distributors, Inc. products and using the Rejuvenate! superfoods in my recovery smoothies. I can feel the difference in my workouts and my everyday energy by incorporating them in my already clean diet. This is not just a sponsor testimonial, but honest truth! I raced 3 days last weekend, and have done 5 hard workouts in 7 days and am continually astonished at what my body has been able to do since using the products. Please help support my dream, this cause and allowing me to share my story about being a pro cyclist!!" – Irena Ossola
You see, we've read the research studies conducted by Dr. Benjamin S. Frank. We've taken Rejuvenate! ourselves. We've seen the benefits accrue not only to us, but also to family members, friends, employees, and many customers, including athletes. Indeed, our customers who are athletes report excellent results to us. These customers include runners, cyclists, surfers, hikers, and others.
Until now we haven't had a pro athlete who can put our superfoods to the test. Why are we so excited? Because we believe in our superfoods and  supplements enough to know that they not only will provide significant nutritional benefits, but also offer unique benefits supporting the intense (and extreme) exercise Irena and other athletes like her perform while training and competing.
REJUVENATE! SUPERFOODS IDEAL FOR ATHLETIC PERFORMANCE
The benefits of dietary nucleic acids include powerful anti-anoxic (tissue oxygenating) effects, as well as muscle building (i.e., creating lean muscle mass in response to exercise), faster recovery, improved endurance, and other benefits from dietary nucleic acids that accrue to maximum levels when the body is exercised at high levels.
Of course, everyone makes gains in health when consuming nucleic acids in foods and superfoods like Rejuvenate!™. But the combination of exercise and nucleic acids definitely produces the greatest results, at least when it comes to athletic performance.
One of our customers who is a seriously devoted runner wrote to us:
"I have been using Rejuvenate! PLUS as I get within a couple weeks of 10k and half marathon races. It provides me with a kick and liveliness that just continues to help improve my personal best results. I gain that extra push to shave off time and perform at my peak. It also makes recovery time much shorter and a lot more effective."
– Chris Pings, Cañon City, Colorado
It turns out that when we ask our customers who are athletes about their experiences with Rejuvenate!™ superfoods, we routinely receive feedback similar to that reported by Irena Ossola and Chris Pings.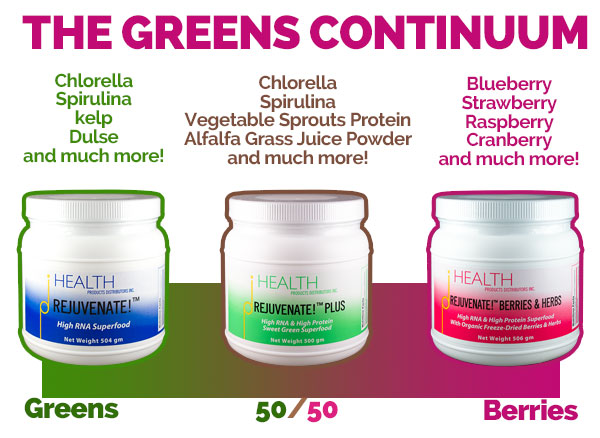 REJUVENATE!™ REVIEWS SPEAK FOR THEMSELVES
Back in 2010, the Health Ranger Mike Adams reviewed Rejuvenate!™ Berries & Herbs and Rejuvenate!™ PLUS. He titled his product review of Berries & Herbs "Rejuvenate Berries and Herbs superfood is rich in RNA, plant proteins."
In Mike's review of Berries & Herbs, he called it a "10 out of 10!" He also said many other good things about it, specifically recognizing the purity of the product, its advanced formulation, and the unique fact that it's a high-RNA formula:
"Rejuvenate! Berries & Herbs tastes fantastic. So it automatically gets consumed with greater frequency in my household, and that feels good because I know just how impressive its nutritional profile is. It's made with sprouts protein, hemp protein, brown rice protein, blueberries and so much more. What really makes this product so remarkable is that it's a high-RNA formula made with nutrients that are specifically chosen for their RNA content such as Chlorella Growth Factor (CGF) and RNA extracts of nutritional yeast." – Mike Adams
You can read Mike Adams' full review of Berries & Herbs on NaturalNews.com.

Later that year, Mike published a product review of Rejuvenate!™ PLUS titled "Rejuvenate Plus superfood is high in DNA and RNA with sprouts, chlorella and more."
Mike spoke glowingly about the product. He emphasized the fact that Rejuvenate!™ PLUS is not some "pretty" superfood, but rather is formulated for "hard-core nutrition fans who value nutritional density over appearance."
He also focused on dietary RNA and the nucleic acid research of Dr. Benjamin S. Frank:
"…If you search around for the work of Dr. Benjamin S. Frank and his research on RNA, you may find a rather interesting collection of information about why and how RNA is a crucial element for cellular health….To deliver RNA, this Rejuvenate Plus superfood relies on chlorella, chlorella growth factor (CGF), nutritional yeast and even RNA extracts of nutritional yeast; all combined with other supporting ingredients ..and some very high-end configurations of nutrients such as magnesium malate (not some cheap magnesium oxide) and methylcobalamin (the premium, expensive version of vitamin B12)." – Mike Adams
You can read Mike's full review of Rejuvenate!™ PLUS. We at HPDI are grateful that Mike Adams has always appreciated the advanced formulation of Rejuvenate!™ superfoods. But he is hardly the only person to appreciate the science behind them.
Dr. Mark Sircus also wrote an article about Rejuvenate!™ PLUS that year. Dr. Sircus, like Mike Adams, personally uses Rejuvenate!™ PLUS. But at that time, Dr. Sircus had just begun with using it, and his experience with it led him to write "Superfood for Cellular Survival." In his very first paragraph, he states, "This past week I have started using Rejuvenate Plus and I am in love."
What follows in his review is an extensive discourse on the uses of Rejuvenate! PLUS for healing, detoxification, and even survival. He writes that the "completeness of the ingredients distinguishes this product from others" describing the nutritional balance of PLUS.
Dr. Sircus also talks about how great PLUS tastes:
"What surprised me most was that it even tastes great by itself with just water. In all my years I have not been able to take spirulina with only water. Rejuvenate Plus is a dream with juice, so mixing it in smoothies or blender drinks with fruits, nuts, berries, and/or grains or nut milks is more than wonderful." – Dr. Mark Sircus, LAc.
Dr. Sircus has since tried all the Rejuvenate!™ formulas, and he recognizes the value of each one. We are especially pleased that he includes them in his various health protocols.
BIG BENEFITS FROM SMALL AMOUNTS OF REJUVENATE!™
We recently discovered a new review of Rejuvenate!™ PLUS posted on AntiAgingAnswers.net. The reviewer opens by saying that Rejuvenate! PLUS is one of her "all time favorite supplements" and that "if you have never been able to tolerate the taste of green powder supplements before, you might change your mind with this one!"
She further states that when she first began using it, she "slept much sounder at night" and "could feel an increased energy shortly after drinking a couple of teaspoons" of it.
Like Dr. Sircus, the reviewer recognizes the completeness of the PLUS formula:
"Rejuvenate! PLUS is unique because while it provides high levels of RNA/DNA , it includes many other ingredients that make it one of the most well-balanced, all-purpose superfoods available." – Reviewer
She concludes by describing PLUS as a "difference maker" and that she can feel this difference when taking just one tablespoon daily. We at HPDI find her statement interesting because a normal serving size is four tablespoons (about 31 grams), which is two scoops providing 340 mg of dietary RNA.
Her statement us that she gains benefits from just 85 milligrams of dietary RNA daily (plus all the other nutrients in the formula). This amount corresponds with Dr. Benjamin S. Frank's findings (reported in Nucleic Acid Nutrition and Therapy) that as little as 75–100 mg of RNA daily provides noticeable benefits.
Dr. Benjamin S. Frank not only recognized that relatively small amounts of RNA could exert "clear and marked beneficial effects" and remarkably improve how his subjects felt, but also used this fact as evidence supporting his assertion that dietary nucleic acids are essential nutrients for health (117).
If the reviewer gets beneficial results that make a difference for her health from a single tablespoon of Rejuvenate! PLUS, then how much more benefit might a person — such as an athlete like Irena Ossola — gain from taking higher levels of it? We hope to find out!
Dr. Frank reported that 1,500 mg daily RNA is an optimal amount for human health. More recent evidence suggests that amounts as high as 3,000 mg daily can be utilized effectively under conditions of extreme exercise intensity. For example, Olympic-level athletes or individuals engaged in professional sports.
WELCOME, IRENA & TEAM CLOUD!
We are pleased to sponsor Irena Ossola and her team, Cloud Racing. We especially look forward to seeing her performance improve as she incorporates Rejuvenate!™ superfoods and other foundational supplements into her regimen. Go Irena and GO Team Cloud!!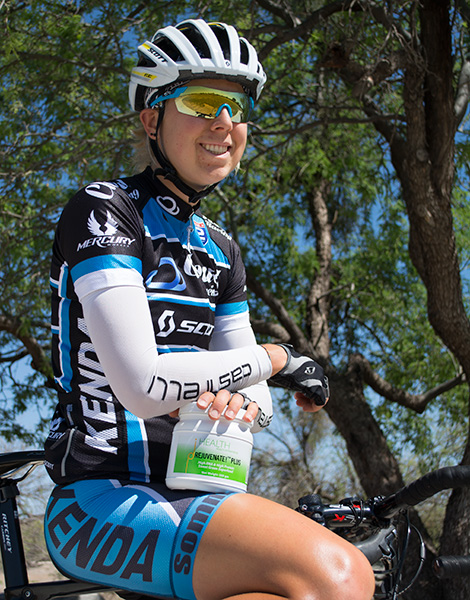 RESOURCES
Dietary RNA for Athletic Performance – by Fred Liers on the HPDI Blog
9 Things to Know About Rejuvenate!™ Superfoods – by Fred Liers on the HPDI Blog
 Rejuvenate Berries and Herbs Superfood is Rich in RNA, Plant Proteins – by Mike Adams

Rejuvenate Plus Superfood is High in DNA, RNA with Sprouts, Chlorella, and More – by Mike Adams
Superfood for Cellular Survival – by Dr. Mark Sircus, L.Ac.
Rejuvenate Plus! Review – by Reviewer
(AntiAgingAnswers.net)
Rejuvenate!™ Side-By-Side Comparison
Ultimate Protector
(Nrf2 Activator)
IRENA OSSOLA & TEAM CLOUD RACING PAGES AND LINKS
Irena Ossola's page on the HPDI website: www.integratedhealth.com/irena-ossola.html
Irena's personal website and blog: www.OssolaSport.com
Irena's Facebook page
Irena's Instagram page
Team Cloud Racing on Facebook
"She Works" Documentary Film Project at Kickstarter.com: www.kickstarter.com/projects/831264978/she-works
HEALTH CARE PRACTITONERS & RETAILERS
Rejuvenate!™ Product Comparison
Apply for an HPDI wholesale account
HPDI ON SOCIAL MEDIA